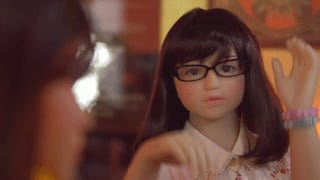 Ever wonder what kind of person would want to shake hands with a Japanese love doll?
Note: This article contains content some readers might find objectionable.
On April 12, a handshaking event was held in Tokyo for "the idol of the love doll world," Silicon Maru. Two days earlier, the love doll released her debut pop single on iTunes.
The event was put together by Pony Canyon, a major Japanese entertainment company, and it was supposed to promote the release of her single as well as the DVD for Lovetopia, a late night comedy about a man and talking love dolls.
The unsettlingly young-looking Silicon Maru seems to be dressed like a member of pop group AKB48, and her name is probably a wordplay on "Lolicon" or "Lolita Complex." Yeah.
The show itself, however, feels vaguely reminiscent of Oh! Mikey (aka The Fuccons), which followed a talking mannequin family. However, it is certainly not a hit like Oh! Mikey was—nor does it seem to be as clever. In short, this is hardly mainstream entertainment!
Want proof at how unpopular this love doll idol currently is? Nobody showed up to the Silicon Maru's meet-and-great.
As website Kai-You reports, nobody.
"Up until now, I've been involved with various events, but this is the first time nobody's showed up," a staffer told My Navi. "I guess it's because this was so embarrassing..." That might not be the word I'd use for it!
Ten minutes after it began, Japan's first love doll idol event was forced to end early due to lack of attendees—or rather, no attendees.
Event staff, however, shook hands with Silicon Maru to cheer her up. Or something.
As Kotaku commenter Xerain quips, the love doll will probably develop a fan base because nobody showed up at her event.
On 2ch, Japan's largest webforum, some commenters noted how "surreal" the whole thing seemed, with one commenter writing, "This is way too insane." On Twitter, some seemed baffled, with one user writing, "Eh, um, yeah. (Currently bewildered about various things.)" Another added, "Fucking funny."
ラブドールがアイドルデビュー! 握手会を取材してきたけど誰もいねぇ…![Kai-You]
"アイドール"シリコン丸、デビューイベント開催も来場者ゼロ [My Navi]
To contact the author of this post, write to bashcraftATkotaku.com or find him on Twitter @Brian_Ashcraft.
Kotaku East is your slice of Asian internet culture, bringing you the latest talking points from Japan, Korea, China and beyond. Tune in every morning from 4am to 8am.