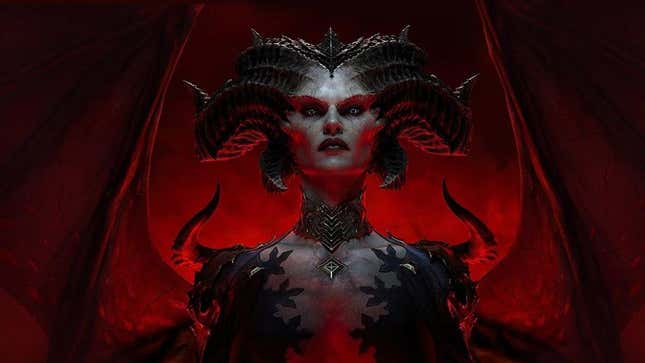 Diablo IV—which has been experiencing login issues since its official launch on June 5—immediately set a record for the fastest-selling Blizzard game of all time, a press release from the developer says. It marks the World of Warcraft creator's "highest pre-launch unit sales ever on both console and PC" based on units sold through June 5. That beats out Overwatch, Hearthstone, and StarCraft, though Blizzard never gives a specific number for total units sold.

The Week In Games: What's Releasing Beyond Diablo IV
Blizzard did not immediately respond to Kotaku's request for comment. But it did mention in its release that, through infinite queues and network disconnects, in the four days between Diablo IV's June 1 early access date and its hard launch date, players have already put 93 million hours into the action role-playing game. That's equivalent to "over 10,000 years," Blizzard says, what a single player would achieve after "playing 24 hours a day since the beginning of human civilization." Too bad they didn't have blue light glasses then.

Blizzard also has been working on the game's multiple launch issues.

And if you're still not one of the game's record-breaking Neolithic buyers, here's what you're missing: "Set 50 years after the events of Diablo III: Reaper of Souls," says the press release, "Diablo IV opens with the summoning of Lilith, the Daughter of Hatred, back to the mortal realm of Sanctuary. [...] Players can customize their gameplay experience in directions that appeal to them, experimenting with skill trees to showcase complimenting spells and abilities as they fight to return Sanctuary to its citizens."

Read More: Diablo IV: 11 Essential Settings To Change, Whether You're On PC Or Console

Starting from $70 and ending at the $100 Ultimate Edition, all three versions of the game are available for purchase (Standard, Deluxe, and Ultimate). Pre-orders for the $96.66 Collector's Box, which will ship no later than June 30, 2023, are also currently open. The Box includes an "occult" mouse pad, an electric red candle, an art book, among other things, but no actual game. That is, indeed, hellish.