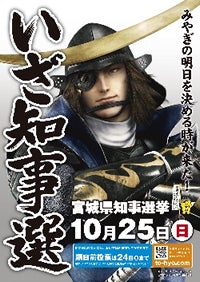 Not quite, but Sengoku BASARA character Date Masamune will be appearing in ads and posters to raise awareness for the upcoming October 25 election in Miyagi Prefecture.
"Warring lord turned video game sensation Date Masamune, is a household name in Miyagi prefecture," explains Capcom. "This campaign aims to use the broad appeal Date Masamune has among the residents of the prefecture to draw attention to the election and increase the turnout of younger voters."
Characters from the game will also be used to promote tourism in Miyagi Prefecture and Kochi Prefecture.
Known in the West as Devil Kings, Capcom has shipped over 1.5 million copies of Sengoku BASARA in Japan. Next year, Sengoku BASARA 3 is scheduled for release.