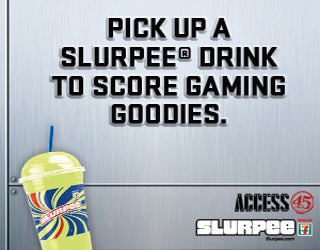 All right players, it's time to fuel up. The Slurpee brand, the choice elixir of real gamers everywhere, has teamed up with EA and Ubisoft to bring you Access 45, a massive event that includes 45 straight days of kick-ass contests. But you can't grab anything until you slurp the last sip.
You may have noticed something different going on with your Slurpee cup recently. For a limited time, those deliciousness-containing containers will feature three of this fall's most anticipated games: Ubisoft's Assassin's Creed® Brotherhood, Medal of Honor and EA SPORTS™ MMA. Inside of each collectible cup you'll find a special code currently worth 10 Slurpee Nation™ rewards points. Use these points to enter Access 45 and scoop up some great schwag like a PlayStation®3 system signed by the Brotherhood development team.
Hurry, because Access 45 ends November 14, 2010. Head here for your chance at today's prize and start redeeming your Slurpee Nation™ rewards points.