Toshihiro Nagoshi, designer of SEGA's Ryu Ga Gotoku, hinted that the game sold 300,000 copies. It's sold more, way more. Just released official numbers put it at 372,000 copies sold.
The game's success also meant a huge PS3 spike. During the Ryu Ga Gotoku 3 debut week, sales of the PLAYSTATION 3 jumped 225 percent to 35,000 units. (Note: This sales data is early.)
This means that Ryu Ga Gotoku 3 falls second to the numbers MGS4 posted in its first week.
G/O Media may get a commission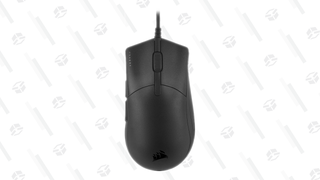 34% Off
Corsair Sabre Pro Champion Gaming Mouse
Click click
Weighs a mere 69g, has a flexible paracord cable to help avoid any excess resistance, uses Corsair Quickstrike buttons with a spring-loaded design for absurdly fast button presses, and uses Corsair Axon tech to process everything faster and transmit your movements and clicks to your PC far faster than some other options.
In its second week, MGS4 sales dropped 86 percent. If Ryu Ga Gotoku 3 dropped by the same percent, that would mean the game could break the 400,000 copies sold barrier in its second week.
How does Ryu Ga Gotoku 3 stack up against the first week sales of the prequels?
Ryu Ga Gotoku: 130,000 copies
Ryu Ga Gotoku 2: 282,000 copies
Ryu Ga Gotoku KENZAN!: 178,000 copies
Ryu Ga Gotoku 3: 372,000 copies
Remember, Ryu Ga Gotoku KENZAN! is not Yakuza 3. Ryu Ga Gotoku 3 is Yakuza 3.
PS3「龍が如く3」初週で約35万本を販売、他 [忍之閻魔帳]