Prison architect is full of surprisingly resonant moral choices. To quote Stephen Totilo:
Am I the kind of person who thinks prisoners shouldn't have windows in their cells? Wait. Is that a kind of person? Is a person who doesn't put a window in the cell of a guy who is about to be executed a, what, bleeding-heart liberal? An optimist? A fool? A human being? A wimp?
Experience all of this joy yourself for just $7 today! [ Prison Architect, $7]
---
Now in stock, grab it while you can. [ Preorder Mortal Kombat X Kollector's Edition by Coarse, $150]
G/O Media may get a commission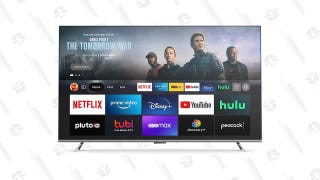 Save 46%
Fire TV 55" Omni Series 4K UHD Smart TV
---
Not a deal, but GameStop has the Mario Party 10 Amiibo bundle in stock...for now. [Preorder Mario Party 10 with Mario Amiibo, $60]
---
You'll have to deal with a mail-in rebate, but this is still the best DualShock 4 deal we've seen since Black Friday. [ Sony DualShock 4 Wireless Controller, $40 after $20 rebate]
---
With 250 hours of battery life on a single set of AAs and 250-2500 adjustable DPI, the Logitech G602 is a great all-around mouse for the gamer on the go. This model has an excellent 4.4 star review average on Amazon, and the G series was also one of your nominations for best gaming mouse, so you can buy it with confidence.
Amazon has it for $50 right now, which is within $5 of the lowest price we've ever seen, so crank up your DPI and put it in your cart on the double. [ Logitech G602, $50]
---
We see a lot of Bluetooth speaker deals around here, but I don't think I've ever seen one for $12. Great (but limited) reviews as well. [Aukey Wireless Speaker Portable Bluetooth Speaker, $12 with code MDT6CKRP]
---
The Super Bowl has come and gone, but there are still great TV deals to be had. Case in point: these refurb VIZIOs on Woot. [Refurb VIZIO Smart LED TVs, $135-$1135]
---
We've featured these earbuds a few times at $30, and they proved to be really popular. Today, they're $7-$10 cheaper, depending on your smartphone's OS.
Sennheiser MM30I In Ear Headset for iPhone ($23) | Amazon
Sennheiser MM30G In Ear Headset for Android ($20) | Amazon
---
If you prefer on-ears, these recertified Bowers & Wilkins P3s are a tremendous value. A new set will cost you twice as much, and the refurbs include a two year Bowers & Wilkins warranty. [Bowers & Wilkins P3 Recertified Headphones, $100]
---
Your MacBook is an elegant piece of machinery; it deserves better than a cheap plastic USB hub. Luckily, Anker designed a few options that look like they could have come bundled with the laptop, but they sell them for decidedly non-Apple prices.
While I take issue with the blue USB ports, this is probably the closest thing you'll ever see to a USB hub that could have come out of Cupertino. The 7-port version is on sale for $26 with code OCASGFZC today, but the 4-port model is a solid buy at $14 as well. And yes, before you ask, they'll work just fine on Windows, but it's pretty clear who Anker's aiming for here.
---
While I'm partial to external battery packs, there's a lot to be said for the convenience and portability of battery cases. This iPhone 6 model from Alpatronix has great reviews, enough juice for a full charge, and most importantly, a slim profile. It's a steal $31 price tag today. [Alpatronix MFi-Certified iPhone 6 Battery Case, $31 with code BX140OFF]
---
Your favorite smartphone dash mount is $7 off today with promo code V5Z3DI65. I absolutely love mine.
Note: You must select iOttie as the seller. This link should default you to their listing, but if you click the Amazon widget below, it'll take you to Amazon's listing, where the code won't work. [iOttie One Touch Smartphone Dash Mount, $13 with code V5Z3DI65]
If you have an older car without Bluetooth, or even an AUX jack, we've also found a great deal on an FM transmitter with built-in USB charger. Obviously, these two items pair very well together. [iClever IC-F40 In Car Universal Wireless FM Transmitter with USB Car Charger, $22 with code BESDEAL1]
---
If you have a Regal theater in your town, here's a no-brainer deal for you. Hopefully the savings are enough to get you the equivalent of a free movie ticket, but that's not true in all cities. In any event, you can't complain about $10 of free money to spend on movies and concessions. [$50 Regal Gift Card, $40]
---
The headline says it all. Hard drive deals don't get much better than this. [ Samsung 4TB External, $100]
---
Humble's latest bundle offers nine (and counting) Star Wars games for the price of your choosing, with the top tier games coming in at $12. May the (deals) Force be with you. [Humble Bundle]
---
This isn't a deal per se, but The Order: 1886 Collector's Edition is back in stock for preorders. It probably won't stay that way long. [Preorder The Order: 1886 Collector's Edition, $80]
---
A lot of you seemed intrigued by the GAEMS Personal Gaming Environment when we posted it yesterday, and today's it's suddenly $16 cheaper. If you were on the fence, it's time to jump. [GAEMS G155 Personal Gaming Environment for PS4/PS3/360, $124 with promo code FEB20]
---
The $36 Xbox Live deal on eBay keeps going in and out of stock, so grab it if you can. If it's sold out, Amazon also has it for $40. [Microsoft Xbox LIVE 12 Month Gold Membership, $36]
---
The PS4 comes with The Last of Us Remastered by default these days, but today, you can get a year of PlayStation Plus as well. [PS4 Console + Last of Us + PlayStation Plus, $400]
---
Audio Technica's ATH-M50 headphones are a common sight around Gawker's offices, and one of your favorite pairs of cans. Amazon has the "x" variant (with detachable cable) for an all-time low $129 today with promo code M50XDEAL. Note: The code is only valid when purchased from Amazing Deals Online via Amazon. [Audio Technica ATH-M50x Headphones, $129 with code M50XDEAL]
---
✔ Cheaper than Apple's Lightning cable
✔ Longer than Apple's Lightning cable
✔ More...braided than Apple's Lightning cable
Tech Armor Premium Apple Certified Braided Lightning cable - 6 Feet ($12) | Amazon | Promo code TECHCABL
If you just want a standard-sized Lightning cable, here's an $8 option as well. [ MFi-Certified Lightning Cable, $8 with code XZV8BC5J]
---
---
We're in the process of ramping up our Facebook content, and we'd love if you liked us and told your friends to do the same. We promise to put things that you actually want to see in your news feed.
---
Gaming
---
Peripherals
PC
PlayStation 4
Xbox One
PlayStation 3
Xbox 360
Wii U
3DS
Board Games
Toys
---
Media
---
Movies & TV
Books & Magazines
Apps
---
Tech
---
Storage
Power
Headphones
Home Theater
Computers & Accessories
PC Parts
Phones and Tablets
Photography
---
Inventory
---
Home
Kitchen
Fitness
---
We work together with you to find the best products and the best deals on them, click here to learn more. We operate independently of Editorial and Advertising, and if you take advantage of an item we cover, we may get a small share of the sale. We want your feedback.