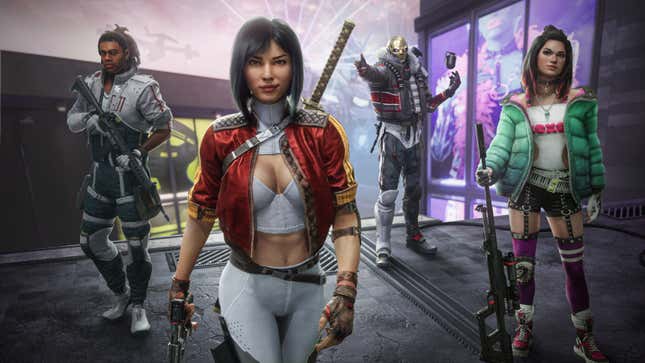 Third-person team-based online free-to-play crossplay shooter Rogue Company is ending support for its Switch version on June 20. Developer Hi-Rez Studios cited "significant technical and process challenges" working on the Switch version in its announcement of the upcoming shutdown. Meanwhile—and I am just reporting the facts here, folks—many Rogue Company players celebrated the end of Switch players ruining their matches.
Hollow Knight: Silksong's New Gameplay Trailer Is Living Rent-Free In Our Brains
Launched in 2020 across Xbox, PlayStation, Switch, and PC, Rogue Company is a tactical character shooter seemingly inspired by games like Overwatch, Rainbow Six Siege, and Counter-Strike. When I played it back in 2020 I found it to be mostly fine if also kind of generic and forgettable. However, over the last three years or so the game has built up a sizable community of players across various platforms. But now, the Switch port of the game will be killed as Hi-Rez promises "better support & focus" on the other platforms as well as more updates, more often.

In an April 11 blog posted on the game's official website, Hi-Rez explained that "after a lot of discussion, thought, and conversations" the team made the "difficult decision" to end support for the Switch version of Rogue Company.

We understand the impact this decision may have on our community and would like to assure you that we have worked diligently to find workarounds for various Switch-specific issues in the past. Unfortunately, significant technical and process challenges prevent us from continuing support for this platform, and we believe this is the best choice for Rogue Company.
Starting on Tuesday, players on Switch will no longer be able to make real-money purchases via the in-game store, but will still be able to buy items in the store using previously accrued "Rogue Bucks" currency. Hi-Rez recommends players link their Switch account to their Hi-Rez account so they can continue playing on other platforms. There will be no refunds for Switch players.

While some were surprised by the news, it always seemed like a possibility that the Switch version of Rogue Company could get shut down one day due to the aging hardware of Nintendo's hybrid machine.
In 2021 Hi-Rez added 6v6 PvP modes to the game, but not on Switch. At the time the studio claimed this was to ensure Switch players had the "best quality" experience possible. Players theorized that the Switch couldn't handle more taxing modes and features, and some worried that the other versions of the game were being held back by the Nintendo port.

Rogue Company fans are happy they won't put up with Switch kids anymore
As you might expect, Rogue Company players who primarily played on Switch were upset and sad about the news. However, there were also a lot of players cheering the demise of this port with many complaining that Switch players were the worst to team up with in matches. Some suggested it was because Switch players were mostly kids or younger gamers who weren't as skilled and could cause teams to lose due to their lack of experience.

"No more Switch players leaving after 3 rounds in demo with 0 damage & 0 Kills," tweeted one player. "No more Switch players in my lobbies?!" tweeted another person.

Of course, it's also likely that a lot of these players were just looking for excuses as to why they'd lost, and a few bad Switch players became their excuse. And while I don't doubt there are plenty of kids playing a free-to-play shooter on Switch, I'd like to point out that kids can also play games on Xbox, PC, or PS5, so you aren't entirely safe from them invading your games even with Switch out of the picture. Sorry.