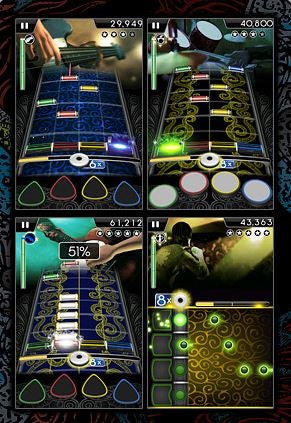 All of those pretenders to the portable rhythm game throne better be ware, the official Rock Band game just hit iTunes.
Harmonic' Rock Band for the iPhone and iPod Touch lets you jam out with a lead guitar, bass, drums or vocals... though no singing is involved with that last one, and will set you back $10.
The game also supports bluetooth multiplayer for four-player jams, though there's no way to play the game online via Wifi.
Rock Band comes with 20 songs from bands like Smashing Pumkins, Lynyrd Skynrd, Foo Fighters, Blink-182 and The Beastie Boys. It also has an in-app store that will let you purchase more songs. Currently songs from OK Go, Foo Fighters, Smashing Pumpkins, Lenny Kravitz, Social Distortion and Devo are running $1 for two songs.