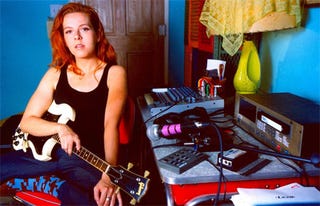 Next week's batch of fine downloadables for Rock Band and Rock Band 2 go a little bit country. Don't worry, this is the good kind of country, largely free of thickheaded wordplay and grating twangery.
What does that even mean? I don't know to be honest, but this is country of the "alt" variety, featuring bands like the Old 97s, Lucinda Williams, and Neko Case, she being the most photogenic of the lot.
Joining the alt country assault will be a Jimmy Eat World triple-shot, including the toe-tapper "Sweetness", which I may purchase and play when no one's within earshot. The full list of new tracks is as follows.
Alt Country Pack
Drive By Truckers "3 Dimes Down"
Lucinda Williams "Can't Let Go"
Neko Case "People Got a Lot of Nerve"
Old 97s "Time Bomb (LIVE)"
Steve Earle "Satellite Radio"
Jimmy Eat World Pack
Jimmy Eat World "Futures"
Jimmy Eat World "Lucky Denver Mint"
Jimmy Eat World "Sweetness"
Each track will set you back $1.99 (160 Microsoft Points) with the "Alt Country Pack" priced at $8.49 (680 Microsoft Points) and the Jimmy Eat World Pack a mere $5.49 (440 Microsoft Points).