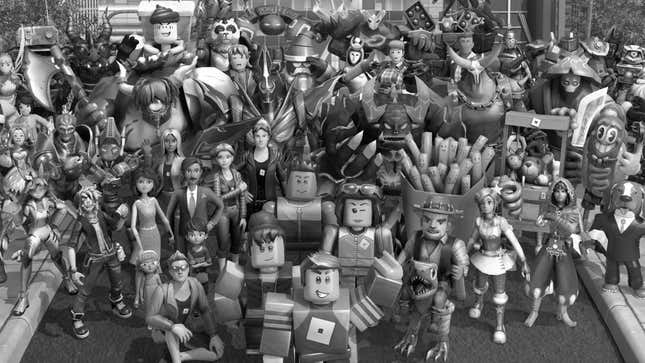 Roblox, one of the most popular games in the world, has been down for over a day now and while many frustrated players are blaming an in-game Chipotle promotion, the devs say that free burritos aren't the reason for the outage.
The Witcher 3 Meets Tense Roguelike PvE Card-Battling In Rogue Mage
Update 2: 10/31/21: 5:30 p.m. ET: It appears that after nearly three days, the Roblox servers are finally turning back on and letting players log in.
According to Roblox's status page, players are returning to the game "incrementally" though the devs did warn that "not all players will have access" right away. However, it appears that whatever issue or problems were behind the prolonged outage have been fixed, and soon players will be able to get back online.
Original story continues below
Roblox is a giant platform that allows players around the world to create and sell their own games and in-game items to others. Millions of kids log in every day to play Roblox, but right now they can't because all the servers are currently down. The outage appears to have started more than 35 hours ago, at 7 p.m. ET on October 28th.

The following morning on October 29 at 9:19 a.m. ET, the official Roblox Twitter account posted that it was aware of the server outage and was working on a fix.
Around 5 pm ET, Roblox's devs were still working on fixing the server issues, posting a new tweet that apologized for the outage and assured players it was making progress on fixing the situation.
This tweet also included a message to players that the outage wasn't caused by any "specific experiences or partnerships on the platform." This seems to be a reference to the theory among many players that the outage was caused by Chipotle giving away $1 million dollars worth of free burritos in Roblox. That event started about an hour before the server crash started.
The timing is certainly suspicious, but for now, Roblox is being careful not to blame a big partner for such a huge server collapse. As for the actual reason the servers are down, Roblox hasn't explained what the cause could be.
It's been hours since Roblox has updated its server status page or tweeted out a new message about the ongoing server outage. So it seems like it might be at least a few more hours before everything is back up and running.
While many younger players might be upset about this, I'd imagine a ton of parents are happy that they don't have to play Adopt Me for a few hours. Plus, considering how shady and scummy Roblox is and how it uses children to help it create more games and become bigger, without paying them back fairly, I'm sure many others are happy if Roblox never comes back online.
Update 1: 10/31/21, 11:15 a.m. ET: Roblox is still down after 60 hours. According to the game's status page, the devs have located the cause of the outage (twice!) but hours and hours later, it's still down.
The last update on the Roblox Twitter account, posted at 4:00 p.m. ET on Oct. 30 explained that the devs were currently "performing the necessary engineering and maintenance work" to get the servers and the entire game back online "ASAP". But alas, it remains offline as of this time.
Update 3: 10/31/21, 10:25pm ET: Roblox CEO David Baszucki has provided an explanation for the extended outage, saying it was the result of "a combination of several factors".
As most of the Roblox community is aware, we recently experienced an extended outage across our platform. We are sorry for the length of time it took us to restore service. A key value at Roblox is "Respect the Community", and in this case we apologize for the inconvenience to our community.

On Thursday afternoon October 28th, users began having trouble connecting with our platform. This immediately became our highest priority. Teams began working around the clock to identify the source of the problem and get things back to normal.

This was an especially difficult outage in that it involved a combination of several factors. A core system in our infrastructure became overwhelmed, prompted by a subtle bug in our backend service communications while under heavy load. This was not due to any peak in external traffic or any particular experience. Rather the failure was caused by the growth in the number of servers in our datacenters. The result was that most services at Roblox were unable to effectively communicate and deploy.

Due to the difficulty in diagnosing the actual bug, recovery took longer than any of us would have liked. Upon successfully identifying this root cause, we were able to resolve the issue through performance tuning, re-configuration, and scaling back of some load. We were able to fully restore service as of this afternoon.

We will publish a post-mortem with more details once we've completed our analysis, along with the actions we'll be taking to avoid such issues in the future. In addition, we will implement a policy to make our creator community economically whole as a result of this outage. There are more details on this to come. As part of our "Respect the Community" value we will continue to be transparent in our post-mortem.

To the best of our knowledge there has been no loss of player persistence data, and your Roblox experience should now be fully back to normal. You can always contact our support team if you experience any hiccups using Roblox now or in the future.

We are grateful for the patience and support of our players, developers, and partners during this time.