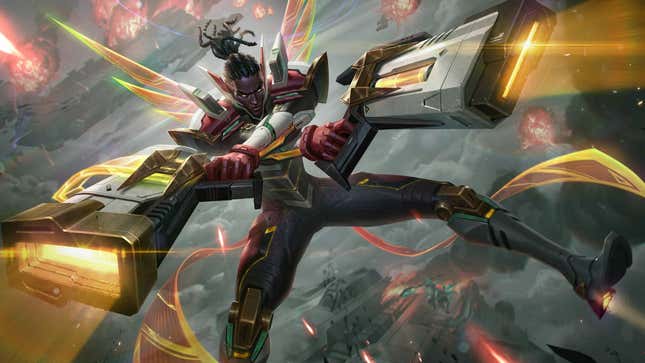 Earlier this week League of Legends players voted "overwhelmingly" to strike over plans to make rule changes that would cut the North American Challenger's League—which only launched last year—from 16 teams to seven.

The Week In Games: What's Coming Out Beyond Cyberpunk 2077: Phantom Liberty
The LCS Players Association, the body representing the region's professional players, say the plans will see an estimated 70 people—players, coaches, etc—lose their jobs. Riot, meanwhile, say the cuts were necessary to ensure the North American leagues remain "sustainable [and] economically viable".
Tensions escalated a day later when news emerged that pro teams had been actively looking "to field scab players", a move that the LCSPA rightly say would "put all players' futures at risk", as "crossing the line undermines player negotiating power".
The LCSPA met with Riot earlier today, and not long after, Riot published a long statement on their site addressing the walkout. You don't have to read far to see that the company has decided to play hardball.
A large part of the post is dedicated to telling North American players that, hey, other regions can make their leagues profitable, why can't you. The most stinging example is this line, where Riot outright rejects the LCSPA's demands that the company "commit to a revenue pool for player salaries of $300,000 per NACL team, per year":
That simply isn't sustainable – and to be brutally honest, it shouldn't be necessary. We have other Tier 2 leagues around the world which thrive on their own, and we believe the NACL can get to that place too.
The harshest language, however, is reserved for Riot's comments on the league's upcoming scheduling, where the company essentially says that if a deal can't be reached in the next two weeks not only will the entire LCS summer season be called off, but LCS teams won't be able to qualify for the 2023 Worlds either:
Hopefully, this two-week window will give us time for productive dialogue between the LSCPA, teams, and the league and then resume LCS competition this summer. The LCS will not be penalizing the teams for not fielding their rosters during this two-week period to allow everyone space to focus on constructive dialogue. We are doing our best to ensure LCS employees, contractors, and others supporting the LCS are not negatively impacted by the delay.

Delaying beyond the two-week window would make it nearly impossible to run a legitimate competition, and in that case, we would be prepared to cancel the entire LCS summer season. Carrying this forward, if the LCS summer season is canceled, this will also eliminate LCS teams qualifying for 2023 Worlds. I want to be clear: That is not an outcome we'd want, but it's unfortunately the reality of ensuring we run a fair, competitive global system.
Crucially, despite the length of the post and the number of points it addresses, Riot doesn't once comment on the possibility of teams using "scab" players. The LCSPA has yet to issue their own comment after the meeting; we've contacted them but at time of publishing have yet to hear back.
UPDATE 11:55pm ET: The LCSPA has now responded, saying in a statement:
Tonight, one thing is back in clear focus: players are the LCS. Without players, there is no league, and there is no esport. From day one, exclusion from the decision-making process drove the LCSPA players to vote to walk out. The future of the NACL and the LCS is too big to decide overnight and without player consideration.

We met with Riot Games today to ask for daily meetings or more, if needed - to reach a resolution. Starting tomorrow, we plan to begin discussions that result in meaningful collaborative action to get our players back where they want to be: competing for fans on the LCS stage.

We also want to say thank you; we remain deeply grateful to the LCS community for the incredible show of solidarity for our players - our fight is possible because of your support.