Rap fans need their own Guitar Hero, their own Rock Band, their own great music game. Def Jam Rapstar steps up. Can it be that?
Def Jam Rapstar is a microphone-only rap karaoke game. No turntables included. No bling. No bottle of Cristal. No Adidas included. Imagine a game that can let you (and a friend) rap along to 45 hits from hip-hop history. Imagine that, and you've imagined most of Def Jam Rapstar. It has some extras, including a freestyle mode and integration to a promising video-centric social network, but, the basics may be all rap fans need to get by.
Ideal Player
People who like rap should be curious about this game, but more specifically, you'd best know your rap. If you can't get the flow of rap lyrics, if you can't even rap to LL Cool J, let alone the way more vexing Lil Wayne, then you're in trouble. It also helps if you don't mind rapping about how awesome you are and how many girls you get, because, sadly for old men like me, the all-eras soundtrack in this game is a reminder of how incessantly self-centered popular rap has become in the past 15 or so years.
Why You Should Care
Video games, like other forms of entertainment, have been borrowing from rap culture for decades, but the 21st-century rise of music games has occurred without a single great rap game, and barely even any disappointing ones. This game's another test to see whether this niche can work.
G/O Media may get a commission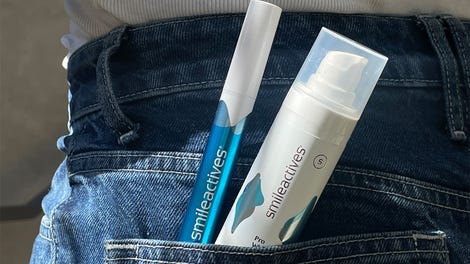 58% off
Whitening Powerhouse Pen & Gel Duo
---
So it's just like SingStar, only all rap, right? That's not an unfair statement. Def Jam Rapstar is a karaoke game. Its career mode is nothing more than a series of challenges that requires a certain amount of proficiency with a batch of songs before unlocking the next. You rap with a mic in hand, following along to lyrics, the original master track backing you up if you choose, and the official music video playing. What SingStar has lacked is a soundtrack that includes Big Pun, Outkast, Onyx, Public Enemy, Soulja Boy, The Beastie Boys, The Wu Tang Clan, Biggie, Tupac, Dr. Dre and Snoop Dogg all on one disc. That's the only distinction I need.
Does Def Jam solve whatever problem was keeping rap games from working well in the past? I haven't played the few rap games that were released before Def Jam. I was scared off by poor reviews. This game granted me a simple experience: I could finally rap along to A Tribe Called Quest's The Scenario and see how well I did based on a scoring algorithm. I tried to trick the game. I mumbled and hummed. It wasn't fooled. I found that the game could tell when I was faking and when I was trying. It could track my pace and flow, if not my deviation from a miserable monotone. I did feel like I was being asked to rap well, which turns out to be hard, since rap lyrics include a lot more words, at a faster clip, than most rock songs. I enjoyed the challenge. I have no interest in singing when I play Rock Band, because I not only can't carry a tune, but never was crazy about rock. My musical fantasy isn't to be the lead singer of The Beatles. It's to be Chuck D.
What about this video stuff? Does the camera help? The Xbox 360 and PlayStation 3 versions of Rapstar allow you to plug a camera into your console and capture video of your rapping. I've done this and already earned the head-shaking of hip-hop icons. You can edit and upload the videos to a Rapstar social-networking site, letting users rate the videos or even pitting your video against someone else's in a Hot-or-Not-style battle that people can vote on. The implementation of all of this is impressively smooth. Take a look at the editing tools, which I used on a clip of myself rapping to Public Enemy. Some of the elements I'm using were unlocked as I played through career mode:

Just curious… what's the toughest song in this game? Lil' Wayne's rhythmless A Milli is nearly impossible to rap to if you don't know how it goes. The Beastie Boys' Brass Monkey is a challenge to anyone's breath control since you're rapping as all three guys. (LL Cool J's Mama Said Knock You Out is the ideal beginner's track, if you want to start easy.)
You'd call this Rap Hero then? Not yet. The best rock games include enough graphical pomp and enough narrative garnish that, coupled with the experience of wielding fake instruments, you can imagine that you are a rock legend. You can be swept away. Rapstar can give you the same feeling when you're in the middle of nailing Rob Base's first verse on It Takes Two, but the illusion of being the next hip hop icon is damaged when the game suddenly asks you to sing that song's hook. I don't want to be the back-up singer. I want to be the emcee. This is rap. I want it to be about me, the great me. A karaoke philosophy would have you sing (or rap) everything. But a rap game that would sweep you into the same type of musical wish fulfillment as Rock Band does needs to craft a more focused emcee-centric mode of play than Def Jam Rapstar offers.
Def Jam Rapstar MC Totilo In Action
(Note: In this video, I am not nailing It Takes Two.)

The Bottom Line
Def Jam Rapstar proves that there are no longer any viable excuses. Hip-hop works as a video game. For those of us who like rap, this is a long time coming, and it's fun to see it work out so well. Rap fans, you've finally got a music game to buy. Next, we rap fans need something that brings us from the SingStar level to the Rock Band level. This is a good underground mix-tape. Bring on the first full album.
Def Jam Rapstar was developed by Terminal Reality, 4mm Games and Autumn Games; published by Konami on Oct. 5 in North America. Retails for $60 on Xbox 360 and PlayStation 3; $50 on Wii. Sold for $10 more when bundled with one mic. Supports two-player co-op. Compatible with PlayStation Eye and Microsoft Vision cameras. Extra downloadable songs available for $2. A PS3 copy of the game was given to us by the publisher for review purposes. Played through career mode on easy, mastered some songs on medium, kept my day job.