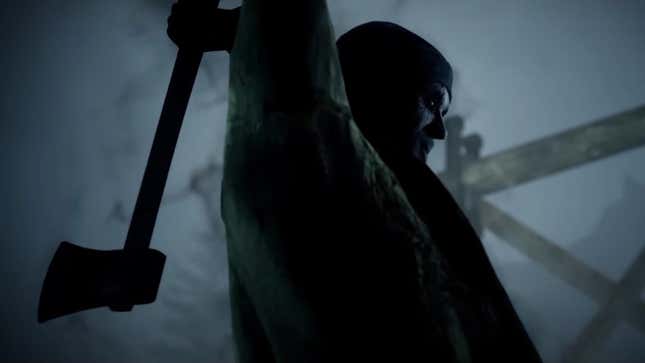 The opening shot of Alan Wake, the 2010 action-adventure horror remastered fairly recently, in 2021, finds us winding around a dusky mountain pass. As we watch spruce trees come and go and the orange sunset give way to chalky fog, protagonist Alan Wake says the following in a voiceover: "Stephen King once wrote that 'Nightmares exist outside of logic, and there's little fun to be had in explanations; they're antithetical to the poetry of fear.'
"In a horror story, the victim keeps asking 'why?' But there can be no explanation, and there shouldn't be one," Wake continues. "The unanswered mystery is what stays with us the longest, and it's what we'll remember in the end. My name is Alan Wake. I'm a writer."

That's typically how I introduce myself, too. But Alan Wake would have never been able to use that momentous introduction if Stephen King himself hadn't sold developer Remedy the rights to his quote for only $1.

Remedy creative director and Alan Wake writer Sam Lake told Eurogamer so at Summer Game Fest, ahead of his appearance at Tribeca Festival.

"Creating the original Alan Wake, I really, really desperately wanted a quote from [Stephen King] to start it off," Lake said. "It's my understanding he wanted $1 for us to get the rights to use it."

Lake called the price "very generous"; Kotaku reached out to Remedy for further information about the affordable deal.

The quote that ultimately made it into Alan Wake's intro comes from a 2008 Entertainment Weekly essay King wrote on "Why Hollywood can't do horror."

"Horror is an intimate experience, something that occurs mostly within oneself, and when it works, the screams of a sold-out house are almost intrusive," King wrote. His ethos applies well to solitary horror experiences like Alan Wake, and so you see his influence all over the game, particularly in its multiple references to The Shining.

Alan Wake 2, which Kotaku senior editor Alyssa Mercante said "[doubles] down on the series' twisted, brilliant plot" after her time with a hands-off demo, could continue the homage. We'll find out on October 17, when it releases on PS5, Xbox Series X/S, and PC.