Regarding post-release review embargoes... Yesterday, I gave readers a heads up about the timing of several of our upcoming game reviews. In that note I mentioned that Ubisoft has stipulated that reviews of Assassin's Creed Unity, based on copies sent in advance by the publisher, couldn't run until noon of release day.
Some readers asked whether that was standard and why that was ok. It's rare and it's not ok on the face of it—it potentially means that an outlet that knows that a game isn't very good can't tell their readers this for some period of time after the game is out.
In this case, the Unity embargo didn't have much relevance to our own approach to reviewing the game. We regularly wait on reviews these days until we've played enough of the game to fairly assess it. If a game's multiplayer servers only go live the day before (as was the case with Destiny), we're likely to wait. If a game is absurdly sprawling and includes a multiplayer mode we haven't been able to play much of (as is the case of Dragon Age Inquisition), we're likely to wait. We expected to be waiting to review this game, too.
I had Unity since last week but didn't actually expect to have a review in time for release day. I usually become immersed in the sidequests of Assassin's Creed games and poke around so much that I probably play double what I need to to review them. Speeding through them is a non-factor. I like doing it that way.
To my surprise, I discovered late this weekend that I would be ready with a review of Unity, in time for Tuesday morning. I'd played enough of it. I double-checked the embargo, assuming it'd be the now-standard 3am ET of release day, at the latest, and saw it was actually set for nine hours later.
We don't technically agree to most review embargoes and didn't sign anything regarding Unity. Review copies of games arrive as a courtesy, often with an embargo sheet attached. The agreement is usually enforced only in that, if we violate it, we can assume the publisher won't offer a review copy of their next game. That isn't to say we don't at times push back.
G/O Media may get a commission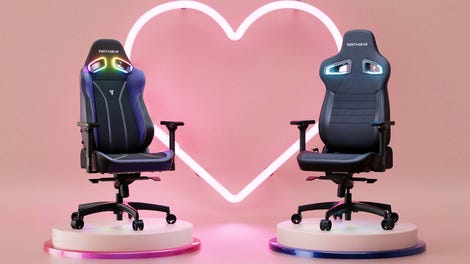 Up to $150 off
Vertagear Gaming Chairs
As I've discussed before, the embargo sheets sometimes include restrictions on what we can talk about that make us decide to wait for a later date when we can review the game unfettered by the embargo's restrictions. Most of the time, however, embargoes are reasonable. And some of the time, when we've had objections, game publishers have changed their stipulations (Nintendo has become more permissive regarding the amount of footage we can capture from review copies, for example, an improvement that I think might have been partially due to my repeated complaints).
Receiving review copies is a professional courtesy afforded to us by game creators both big and small. It's not a right, and we would probably do just fine without them. But we do like to get games as early as possible so that we can give you, the readers, the most informed review possible. It's to our benefit and yours, I think, that I've already been able to play Unity for several days.
We nevertheless also think it would be a courtesy for publishers to allow any reviews based on early copies to be published in time with a game's release, not a minute later, not 12 hours after a midnight launch.
As such, you can take this as policy that, in the future, Kotaku will not accept post-release review embargoes tied to early review copies. That doesn't mean we're guaranteeing day-one reviews. We may still decide to wait to review a game if we feel we haven't been able to have a fair go at the game's online multiplayer or if, say, a game creator has advised us that there's a last-minute pre-release patch we should test out... but if the only thing holding us back from running a review is an arbitrary amount of hours on the clock, we won't wait and will publish our review the minute the game is released. It's what our readers deserve and it seems like a reasonable standard that all publishers, Ubisoft included, have largely honored for years. It's a line that need not be crossed again.
In other news, I haven't started playing AC: Rogue yet. Expect a review of that... some day.