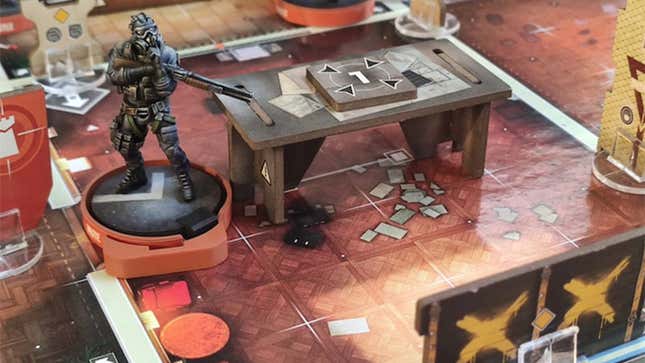 In 2021 Mythic Games, with the backing of Ubisoft, announced a Kickstarter campaign for an officially-licensed board game adaptation of Rainbow Six: Siege. Two years later, Mythic are asking people who already paid for the game to pay a bit—and in some cases a lot—more.

Spirittea Is Stardew Valley Meets Spirited Away, Can Take Our Money Now
The game, simply called 6: Siege, is pretty much what you'd expect: two teams of operatives do battle on a tactical map, one side attacking, the other defending. And as you would also expect from an officially-licensed board game appearing on Kickstarter, it is supposed to be huge, promising all kinds of plastic miniatures, expansions, 3D buildings and terrain.
In 2021 you could get the game in three tiers: a basic $69 copy, a deluxe $199 version and an even more premium $269 edition. That last one came with a lot of stuff: five "years" of expansions, multiple map packs, extra units, a neoprene dice tray, 3D buildings and even a little laser pointer so you could quickly and accurately determine line-of-sight stuff.
Now, in 2023, with the pandemic having wreaked havoc on the board game industry, Mythic (via Wargamer) have posted an update on their campaign website stating that, as things currently stand, the money that people paid during the initial campaign isn't going to actually cover their manufacturing costs.
As a result, they're giving backers three choices: they can pay more money, they can wait for prices to come down and receive their games at some point in the future, maybe, or they can ask for a refund. Backers of the $69 edition are being asked to pay an additional $39, $199 backers will need to pay $99 more and the $269 backers are being asked to pay an extra $129.
That is...hoo boy, that is a lot of extra money. Mythic have explained the decision on their campaign page, attributing the increases to international conditions, along with some internal overrun:
...the combined crises of COVID and the war in Ukraine, which we had not anticipated, have changed the international situation. Prices have literally exploded in all areas, and the estimates on which we based ourselves before and during the Kickstarter campaign are absolutely no longer relevant.

To give you some examples, the cost of paper and cardboard has increased by 50 to 100% on average (the paper we use for example has gone from $600 per ton to $1200 per ton), the cost of labor in China where our games are produced, assembled and shipped has also doubled from $4 to $8 per hour. The cost of energy, plastic and raw materials has increased by almost 50%. Finally, while container fees have recently dropped from their ridiculous highs (but not back to pre-crisis prices), the cost of the Last Mile has skyrocketed and has never been higher. On our side, it must be said, we spent much more than expected in the development of the game, with more people than we expected working on it and longer than we originally estimated (which caused extra costs, but also has the advantage of having an optimal, well-tested, varied and balanced game in the end).
Wildly, this isn't the first time Mythic has had to do this; their Darkest Dungeon adaptation had to ask for extra money as well, something that 20% of backers refused to do. In this case Mythic's update says that "If we do not reach the commitment rate, we commit to reimburse all contributors for these additional costs by the amount of their contribution", and that "At the end of the fundraising period, if we have reached the minimum commitment to go into production, we will start printing."
While I have a lot of sympathy for board game publishers and manufacturers right now, these conditions aren't new; I wrote "Board Games Are Having A Bad Time" in April 2020, and this game was Kickstarted a year later. For Mythic to have not gone overboard with allowances for pricing variations during such tumultuous times reflects poorly on their campaign planning, and fans are right to be upset at being not only asked to pay more, but to pay so much more.
It's also yet another example of the dangers inherent in the arms race so many board game publishers are trapped in on Kickstarter, offering increasingly obscene amounts of plastic miniatures and other luxuries with their games in an effort to appeal to backers, all the while making their projects far more expensive—and thus risky—to actually make.
I've contacted Mythic to clarify what exactly happens to the whole campaign if the "commitment rate" isn't met, and will update if I hear back.