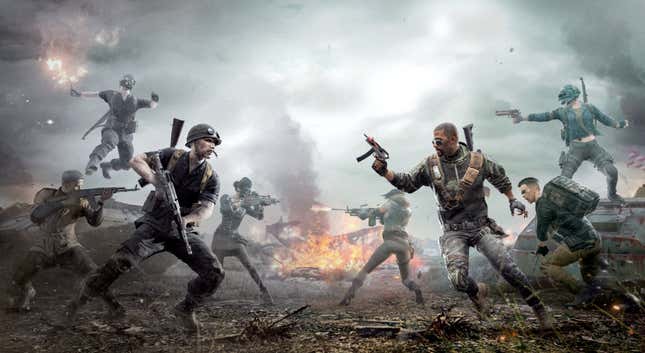 Two PlayerUnknown's Battlegrounds (PUBG) players could face several years in prison for illegally crossing some South Asian borders to live together, according to a recent New York Times report.
Seema Ghulam Haider is a 27-year-old Pakistani Muslim with four children. She met Sachin Meena, a 22-year-old Hindu man, in the battle royale shooter PUBG in 2019. The battlefield-crossed lovers grew closer as they fought for the virtual win, eventually moving their conversations to Instagram, WhatsApp, and other social media apps in 2020, according to The New York Times. Haider was married at the time and living with her husband in Karachi, but he moved to Saudi Arabia for a job—and never came back. This was the field where Haider and Meena's love for each other blossomed.
After about four years of being in a committed long-distance relationship, the pair met up for the first time this past March in Nepal. They stayed at a hotel for a week, and promised to reunite soon. After searching on YouTube for a way to slip through the porous border between Nepal and India, Haider and her four kids made the perilous journey. Things worked out fine for the PUBG lovers for roughly two months as they lived in secret in a town outside New Delhi. Haider even sold her home to fund the trip. But then they ran into Indian authorities, and things quickly went south.
As The New York Times reports, the family was arrested this week. Haider and her kids were charged with illegally entering India, while Meena and his dad were charged with conspiring to shelter an "enemy." Haider is a Pakistani Muslim woman and Meena is a Hindu man, and the Indian government condemns all interfaith relationships between these two religions.
"I don't want to go back," Haider told reporters as she was taken away by the police, according to The New York Times. "I want to marry Sachin. I love him a lot. I left everything for him."
Meena similarly expressed his love for Haider. "We just want the government to let us marry and build a family," he said.
Meena wasn't some playboy flush with cash. The New York Times reports that he worked a modest job at a corner store, making approximately $100 a month. That didn't matter to Haider, though, who wanted to be with Meena anyway.
"She knew that he was not financially very strong," the head of the Rabupura, India police station Sudhir Kumar told The New York Times. "She was not impressed by his work, but by his PUBG skills."
The couple faces a potential sentence of several years in prison, after which Haider and her kids will likely get deported. This whole thing is heartbreaking.