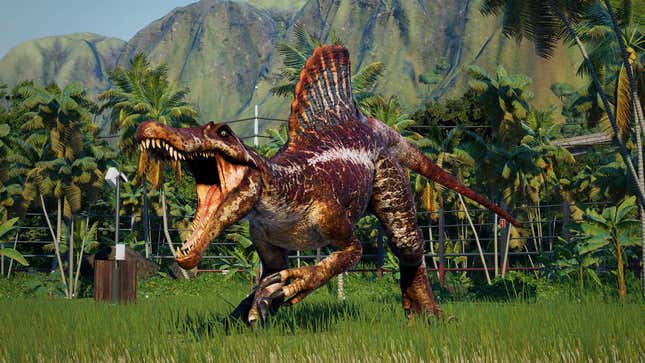 It's nearly June 2023, and if you're a PlayStation Plus Subscriber, that means you've another shot at adding some more free games to your library. While May 2023 saw GRID Legends, Chivalry 2, and Descenders (which you can still grab if you're reading this before June 6) added to Sony's subscription service, June's got some sports, totally safe theme park planning, and some cinematic side-scrolling samurai action.
In Eternights You Press R2 To Hold Hands Just Like IRL
Every month, PlayStation Plus gives subscribers the opportunity to add more and more games to their library. While the more expansive Game Catalog includes many exciting games, those are only available for Premium and Extra subscribers. But if you're an Essential subscriber, then each month you'll still get the chance to add new games every month to your library, downloadable and playable for so long as you're a subscriber. This month's games include NBA 2K23, Jurassic World Evolution 2, and Trek to Yomi. Each of these will be available to PS+ subscribers of any tier on PS4 and PS5 starting on June 6, 2023.
PlayStation Plus Monthly Games for June: NBA 2K23
There's always a Tony Stark in a Winterfall (or however that goes), and there'll always be a new NBA game every year. What's particularly neat about the latest edition is the Jordan Challenge. Absent from the series since 2010, the game plays some time travel tricks to send you back to the 1980s to relive iconic moments from legend Michael Jordan's career.
PlayStation Plus Monthly Games for June: Jurassic World Evolution 2
Jurassic World Evolution is one of those things that somehow hasn't existed forever: a theme park sim where you get to make the totally safe and sound decision to breed dinosaurs and hope they don't break out to eat the guests.
The second game will hit your Jurassic Park nostalgia synapses by featuring Jeff Goldblum providing voice work as series-favorite character Ian Malcolm. And once you're done playing god, listen to the man and go outside and touch some grass.
PlayStation Plus Monthly Games for June: Trek to Yomi
You are Hiroki, a swordsman living during Feudal Japan who has sworn himself to walk a path of vengeance. A side-scrolling action game that leans heavy into its cinematic influences, Trek to Yomi is a must-play if you were at all a fan of Ghost of Tsushima, or just love classic samurai films in general.
It's not all blood-pumping action (though the combat does get intensely bloody). Trek to Yomi also features some nice exploration through gorgeous environments.
---
So if you're into sports, samurai, or just like a good dino, June looks like a great month for PS+ subscribers. And don't forget to grab the May monthly games before June 6, 2023 if you haven't.