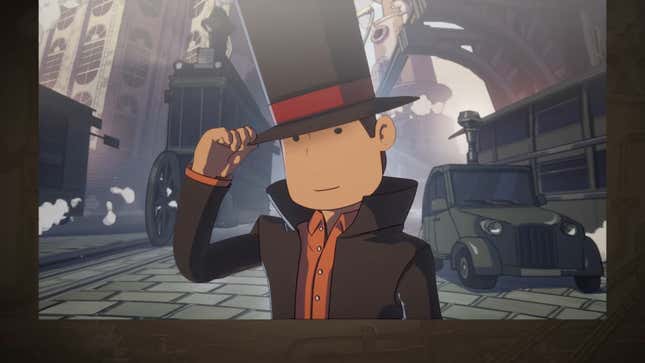 Level-5 announced Professor Layton and the New World of Steam at the Nintendo Direct last month, ending fans' decade-long wait for a sequel. Today, the developer showed off additional story and gameplay details to satiate those who weren't content with just seeing a cinematic trailer.

Professor Layton is a critically acclaimed puzzle-adventure series that once allowed players to solve mysteries using the touch functions of the Nintendo DS. Despite the technical constraints of the platform, Layton fans remember the series fondly for its challenging puzzles, charming characters, and whimsical art style. The developers planned for Professor Layton and his assistant Luke to have their last prequel adventure in The Azran Legacy (2014), so fans weren't expecting a sequel.
In Dune: Spice Wars The Spice Must Flow But Remember To Hydrate
Surprise! The New World of Steam takes place one year after The Unwound Future, which came out in 2014. The young apprentice Luke moved to America after his last adventure with the professor, and he's built a life for himself there. At the start of New World, he invites Professor Layton to Steam Bison, a fictional town in America. The steampunk technology there has already surpassed Great Britain's. Players can help the town develop even further by solving puzzles.
The trans-Atlantic move isn't solely for aesthetic reasons. The trailer emphasizes that Professor Layton is simply "an anonymous gentleman" in America, while Luke has become an established detective. It seems that their mentor and apprentice roles have been reversed, which will hopefully help the game feel fresh after its decade-long hiatus.

It's probably been a few years since you've played the DS games. If you're trying to get caught up on the series before World of Steam comes out, you can grab the original trilogy off mobile app stores. The New World of Steam doesn't have a release date right now, but it will eventually be available on the Nintendo Switch.