YouTube celebrities, especially women in the beauty vlogging community, have been open about how their extremely public job affects their mental health. In many cases, showing their face to millions of people has led them down dark paths. Self-harm, anxiety, depression and eating disorders are just some of the mental health issues inspired by being endlessly critiqued online.
For months, Minecraft YouTube celebrity SkyDoesMinecraft (Adam Dahlberg) had looked noticeably tired and worn-out on his channel. Over the last few weeks, his channel stopped posting as much live Minecraft gameplay, and instead showcased mostly "highlight" clips based on previous videos. The change in programming, Dahlberg recently explained, was due to his struggle with Bulimia Nervosa, an eating disorder that describes the act of purging after eating.
Dahlberg's Minecraft YouTube channel has placed in the top 50 most-subscribed YouTube channels. He's been on YouTube for over five years, garnering an enormous following of 12 million subscribers. His face appears in the top left of his streams. Commenters, for years, have expressed their opinions about every facet of his personal life, from his parenting to his body. Other fans emphatically describe him as their favorite YouTuber or tell him he makes their day.
On September 24th, Dahlberg told his Twitter followers that for nearly three years, he said, he has suffered from Bulimia, which, for him, means that he "can't really eat food without getting very anxious and panicky."

"It's so frustrating," he said. "I can't eat anything without some kind of fight with my mind to keep it down. I could eat a salad for God's sake, then my mind fucks me over." He can handle criticism, he says, but he notes that he has heard several "fat jokes" over the years.
Dahlberg detailed how his eating disorder had affected his physical and mental health over the last week on Twitter and Youtube. His teeth have been deteriorating and he's been puking blood, he says. As a result, he'll be recovering in a clinic in Washington for the next few months. 10% of proceeds from his merch sales will go to "these types of clinics," he says. Dahlberg has not returned requests for comment.
G/O Media may get a commission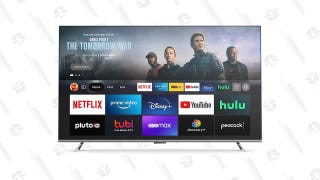 Save 46%
Fire TV 55" Omni Series 4K UHD Smart TV
Bulimia has widely been characterized as a women's problem, making it difficult for many men to come forward about compulsively purging. In the US, the National Eating Disorder Association says, men have a lifetime prevalence of 0.5% for Bulimia. Dahlberg himself struggled against the stigma: "This is so hard to talk about because, as a man, I feel like it was so hard to admit I had a problem or show weakness in this field," he said. His coming forward is brave, on all fronts, but especially in light of how Bulimia is widely perceived.