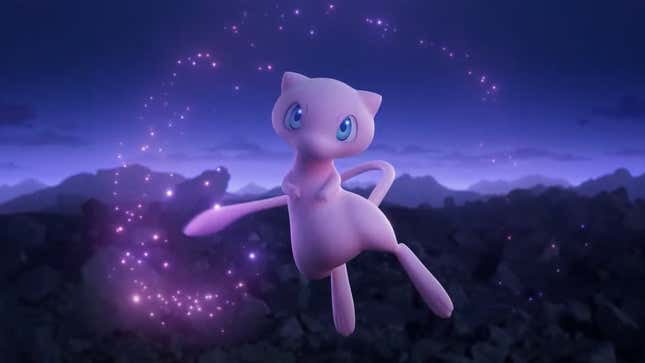 Mew and Mewtwo are coming to Pokémon Scarlet and Violet in the form of, as The Pokemon Company calls it, a "Get Mew & Mewtwo" event, which includes a Mystery Gift event and an event Tera Raid.

New Pokémon Scarlet And Violet Trailer Features Hot Profs, 4-Player Co-Op, And Lechonk, The Hero We Deserve
Mew is available now, using the Mystery Gift code GETY0URMEW, and will be available until Monday, September 18 at 14:59 UTC. Mew will have a random Tera type, but you'll have time to change it before Mewtwo joins the game next month as an event Tera Raid boss. The Mewtwo raid will have a psychic tera type and will run from September 1 to September 17.
Buy Pokémon Scarlet: Amazon | Best Buy | GameStop | Target
Buy Pokémon Violet: Amazon | Best Buy | GameStop | Target
News of the event was discovered by dataminers back in July, and it sounds like if you bring Mew into the Tera Raid, it will get stat boosts, including a 50 percent HP increase and a 20 percent stat increase to its attack, defense, special attack, special defense, and speed. So if you want an advantage in the fight, it sounds like Mew is the best pick to bring to the battle.
The whole thing harkens back to the legendary Mew and Mewtwo rivalry first seen in The First Movie, which tore everyone's heart out and pitted Mew against Mewtwo, its clone trying to figure out its place in the world. So if you want to recreate millennial trauma, there's not a much better way to do it than incentivizing players to bring four Mews to a big, cooperative boss fight to capture a superpowered Mewtwo.
This was one of many announcements at the Pokemon Presents showcase, which highlighted several projects in the series, as well as a new look at the Scarlet and Violet expansions set to launch later this year. So it sounds like you'll be able to travel around these new areas with a Mew or Mewtwo following you around. Neat.