Back in 2017, The Pokémon Company announced Pokéland. Slated for iOS and Android, the game was to feature toy Pocket Monsters duking it out on various in-game islands. But the game went M.I.A. That is, until today.

The Pokémon Company has just revealed that the game is now called Pokémon Scramble SP in Japan, while internationally, it is Pokémon Rumble Rush.
While the official Japanese site lists its release date as kinjitsu (近日) or "coming soon," Australian site Vooks is reporting that the game has already been released there on Android.

G/O Media may get a commission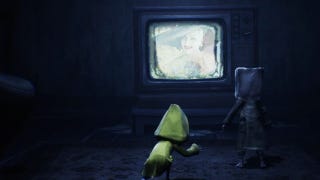 Horror Video Games to Play Leading Up to Halloween
Spooky and scary
Something video games have over their film counterparts when it comes to horror is the player's agency. Sure, watching the slasher claim their next victim can get a jumpscare out of you, but you know what's scarier? Knowing you had the power to stop it. Watching someone slowly open a door and enter a dark room is unnerving, but having to do it yourself will send shivers down your spine and paralyze you with fear.
Below are gameplay descriptions from the Google Play Store:

• Enjoy fast-paced gameplay on the go
It's easy to control your Pokémon with one hand. Clear stages by controlling your Pokémon as it moves forward. If you see enemy Pokémon, you can attack by just tapping the screen. Tap to engage in exciting gameplay action!

• The islands and seas explored during your adventures change every two weeks

You may find unfamiliar and stronger Pokémon on new islands. So, journey through various islands and seas and collect more and more Pokémon!

• Upgrade Pokémon of your choice

You'll sometimes receive ore when you clear a stage. Refine ore to get power gears that you can use to make your Pokémon stronger. You may even be able to refine ore into a summon gear that calls forth a Pokémon to use a powerful move. Use power gears and summon gears to help your favorite Pokémon do well!

• Test your strength using the Pokémon you've collected

Occasionally, you can earn rewards by working your way through the Super Boss Rush. You'll need many different types of strong Pokémon to win each Super Boss Rush. Harness the power of the Pokémon you've collected from various islands and seas to defeat the powerful Super Bosses.

• Devices compatible with Pokémon Rumble Rush

Pokémon Rumble Rush is compatible with the following environments:

Android 4.4 or higher, Snapdragon 410 or higher
Please be aware though that Pokémon Rumble Rush may not function on some devices.