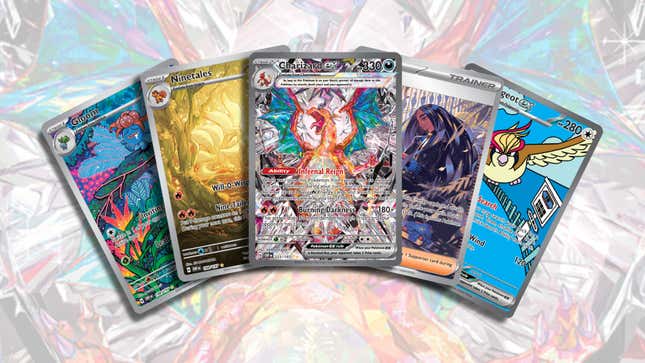 The Pokémon TCG's Obsidian Flames was always going to be an awkward, middle child of a set. Released before the fuss of Paldea Evolved and its Iono frenzy was over, but also just a month ahead of the inevitable deafening noise of Pokémon 151, if it weren't for its Charizards it might have been entirely overlooked. But then, Charizards.

The result has been interesting. We have a set that is packed with some of the most wonderful art the card game has ever seen, and it's all going for a song. Prices were inevitably high on the opening weekend, but then immediately hurtled off a cliff and into a sinkhole, with even the four Charizards losing 75% of their value in less than two weeks.
It is, by my reckoning, a combination of two factors. Firstly, as previously mentioned, people are so hyped for 151 that Obsidian Flames exists in the shadow of the next set's pre-orders. Secondly, the pull rates on those Charizards are way higher than anyone was expecting—they're simply too easy to pull. Which is good!
Unfortunately, that's not true of the set as a whole. I bought my own booster box and Elite Trainer Box, along with other packs here and there, meaning I've opened over 50 packs to get an idea. And wow, it's been sucky.
Read More: The Next Pokémon Card Set Is Packed With Essential Charizards (And More!)
We did, I should stress, pull the big card, the Special Illustration Rare Charizard. Were we to sell it, it's fair to say I'd get about half of the money back, but then I'd also have to prise it from my eight-year-old's vice-like grip, and it might get damaged in the process. But beyond that, it was weirdly scant pickings. Pull rates have been tough to swallow since the joy of this year's Crown Zenith, but in my experience, and that of watching the rich ol' YouTubers tear through hundreds of packs, Obsidian Flames has felt the worst. Everyone's got themselves a Charizard of some sort, but also towering piles of bulk.
Which is such a shame, because this set is just packed with artworks I would love to collect. The Pidgey trio alone would be wonderful, but we didn't even manage a regular Pidgey ex in all those packs.
So as you might imagine, the numbers on this set are way lower than we're used to. This is a set with gorgeous art, a lot of it in teeny windows on the bulk, along with some very playable cards for the TCG. In that sense, it's well worth picking up—just with modest expectations. All that said, here are the top-ten priced cards in the set.