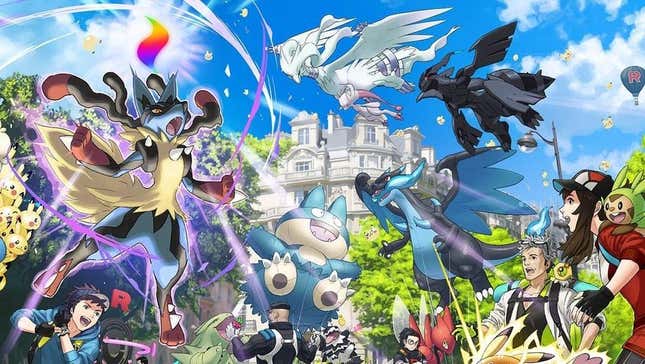 Just under two weeks after the Pokémon Go dev laid off over 200 workers, Niantic is now the subject of a lawsuit alleging the company has a "systemic sexual bias" against women employees.

New Pokémon Scarlet And Violet Trailer Features Hot Profs, 4-Player Co-Op, And Lechonk, The Hero We Deserve
As originally reported by The Verge, the lawsuit comes from a former Niantic employee, who accuses the company of devaluing the work of its female employees, especially women of color. This extended to favoritism toward male employees, underpaying female workers, and labeling those who speak out against these conditions as "a problem" by upper management and subsequently pushed out of the company. The lawsuit goes on to call Niantic a "Boys Club where men mentor and boost the careers of other men while leaving women and women of color behind."
The employee who put forth the complaint describes a situation where she was earning a salary of $70K when she started working at Niantic in February 2020, then was later promoted and got a raise to $84K, only to learn a male colleague was being paid more than her in a lower job title. By 2022, he was allegedly receiving $127K, while she was being paid $105K, despite the higher job title. Even after receiving a raise earlier this year, she says she was still making around $12K less than the same male colleague.
After this, she learned she was being paid $10K less than her job's pay range by comparing her compensation to that of other California employers thanks to the state's pay transparency law. The anonymous employee talked to other female workers at Niantic, then brought them forward to Niantic's Diversity Equity and Inclusion Director and Principal People Partner, and said they "were hostile to her complaints or voiced concerns about sexism or sexual bias in the workplace."
The lawsuit also claims the executives in the meeting said her pay range was being affected by her voicing her concerns to other colleagues in Wolfpack, an employee resource group for women. This prompted the anonymous worker to unsubscribe from Wolfpack, for fear that any association with the group would affect her position within the company.
This past spring, Wolfpack put out a survey about Niantic's workplace culture, and the results revealed several female employees were dissatisfied with the state of the company, said the sexist work culture "disadvantages" anyone who isn't a man, and specifically pointed to pay inequity. According to the lawsuit, Niantic's Chief Marketing Officer Mike Quigley required Wolfpack to remove references to the "Boys Club" and any other comments about sexism from its presentation to Wolfpack members. This also prompted the company to tell Wolfpack it wouldn't be allowed to send out surveys without approval from the company's upper management.
Kotaku reached out to Niantic for comment.
Update, 07/12/23 1:13 p.m.: Niantic responded to Kotaku's request for comment stating it "[doesn't] comment on ongoing litigation matters."