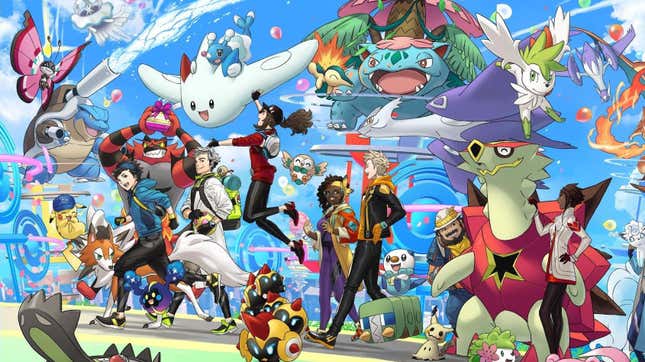 Pokémon Go has been riddled with controversy over the past month after developer Niantic made changes to Remote Raid Passes. The changes included limiting how many times people could use these items to play the game remotely, rather than having to leave their home to take part. Alongside this, the studio made Remote Raid Passes more expensive, making an already limited resource harder to buy. The changes were met with immediate backlash, especially from disabled players and those living in rural areas. After protests and social media campaigns, Niantic has been real quiet about the community's reaction, but some poor social media employee stepped in it when they posted a since-deleted tweet claiming the audience was totally on board with the state of the game.

Grand Theft Auto 6 Comments: A Dramatic Reading
While Niantic's offending post has been deleted as of this writing, fans over on the Pokémon Go subreddit (thanks TheGamer) managed to get a screenshot before someone at the company made the call to take it down. The post read like a Rotten Tomatoes score for "going outside," with 95 percent of critics praising it, and a 100 percent audience approval. The Niantic tweet signed off with a good ol' #getoutside and someone certainly hit send on that one. The problem is that audience approval for going outside and being required to go outside are at an all-time low for Pokémon Go these days. People were quick to call the company out, which is likely why the post was pulled in the first place.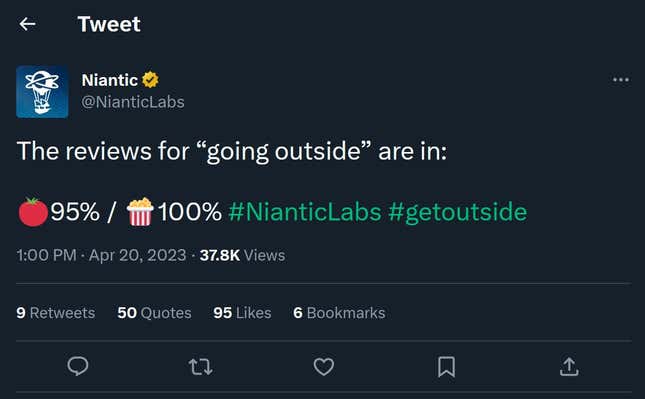 The charitable read of this is that someone on Niantic's social team had to post something that day and Rotten Tomatoes scores make for an easy enough template. The less charitable read is this could be read as a joke at the community's expense, passive-aggressively referencing the current controversy. But whatever the intention was, there are people within Pokémon Go's player base who cannot go outside due to disabilities, and that is the problem Niantic won't acknowledge. The game has always been a subpar experience for rural players as well due to a lack of feature support in those areas, but the Remote Raid Passes nerf has brought those conversations back into the spotlight.

All of this comes after weeks of protests and social media outcry under the tag #HearUsNiantic. It's clear from the company's removal of the post that it does hear the criticism, it just hasn't shown a willingness to roll back the changes, much less actively acknowledge the problems the community has. That's what makes a post like this all the more tone-deaf, as it comes after weeks of radio silence. The public reaction got the tweet taken down, but whether it amounts to actual change for Pokémon Go and its players remains to be seen.