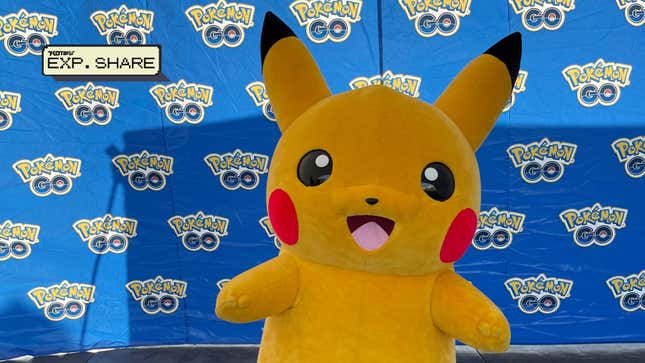 Pokémon Go Fest 2023 was a surreal experience for someone who has only had a passing relationship with the mobile 'mon collecting game since it launched in 2016. On the bus back to Manhattan from Randall's Island Park, I sat surrounded by people from all walks of life brought together by Pokémon Go. The crowded bus was full of trainers. In my immediate proximity was a child around the same age as I was when I watched my first episode of the Pokémon anime, a 70-year-old woman who came down to New York from Canada to gather with other Trainers, and someone in their twenties who was giving out homemade Trading Card Game packs (thanks for the cards, JesPressPlay!). At that moment, I felt connected with the Pokémon community in a way I hadn't in a long time. When that connection is being facilitated by a game you haven't been able to play much since it launched, however, it brings a swell of complicated emotions.

The Week In Games: Pocket Monsters And Simulated Goats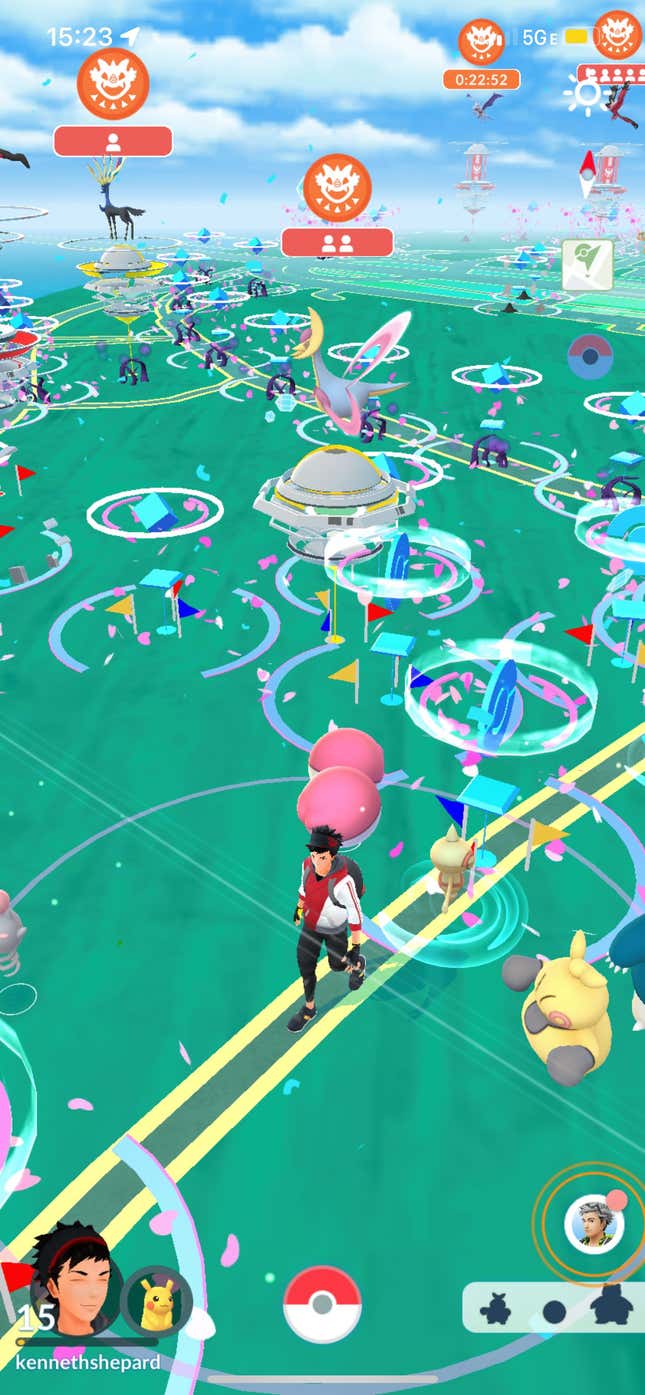 I'm a recent New York transplant, but I lived most of my life in a very small town in Georgia. Pokémon Go took off there like it did everywhere else, but it dropped off hard when it became clear the app's infrastructure wasn't built for small towns. That's still the case, and has only been made worse with developer Niantic rolling back changes made at the start of the covid-19 pandemic that made it easier for disabled and rural players to engage with the game. Pokémon GO was a game tailor-made for me, a Pokémon sicko, but it wasn't made with people who lived in that small Georgia town in mind.
Pokémon Go Fest was more accessible than the game
To Niantic's credit, Go Fest was accommodating to disabled players—It was both compliant with Americans with Disabilities Act requirements, and had specific options in place to ensure catching event-exclusive Pokémon was feasible, even for those using mobility devices. Niantic told Kotaku that the company specifically made it so that all the event's content could be accessed from Randall's Island Park's paved pathways, and didn't require attendees to move across the grassy areas in order to participate. The event organizers also arranged for a mobility device charger to be on-site should anyone using a powered mobility assistant need one, as well.
It's clear that, after years of doing this, Niantic has learned a lot about how to run an event like Pokémon Go Fest. Mark Van Lommel, the company's communications director, told Kotaku that each year since the disastrous Chicago 2017 event that was plagued by connectivity issues has been a learning experience. While there were stumbles that you can't account for, the New York Go Fest felt like it was built on a much stronger foundation than previous events. Van Lommel said having better relationships with mobile service providers was a huge help, which is why the company was able to resolve an issue for Verizon customers quickly. Players who had a Verizon membership ran into an outage during the event, and Niantic worked with the provider to resolve the issue and then extended its city-wide event for an additional three hours.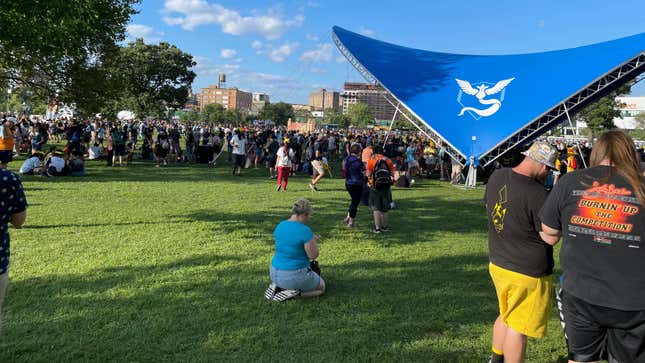 My first Pokémon Go Fest

Because this was my first Go Fest, I do feel like I got a rather rosy image of what it can be, rather than the uglier picture of what it's been. The New York event, despite its stumbles, was a joy to experience, even as a person who hasn't been able to play Pokémon Go. As I was heading into the event, I knew I was getting closer when I started to see other people in Pokémon merchandise and we'd exchange knowing nods. I talked with other long-time trainers who asked to trade, and I would, embarrassed, explain I hadn't put a ton of time into the game over the years, but I would be glad to send them friend requests and show them what I had while we stood in line to take pictures with the Pikachu and Eevee mascots. Eventually, those conversations extended beyond Go and the event, and we talked about the general Pokémon fandom. How did you like Scarlet and Violet? Who's your favorite Pokémon? Everyone, from the youngest kid to the oldest adult, has an answer, and it was often different from the last person you asked.
Welcome to Exp. Share, Kotaku's Pokémon column in which we dive deep to explore notable characters, urban legends, communities, and just plain weird quirks from throughout the Pokémon franchise.
Pokémon is an incredibly expansive franchise and that's part of its magic. From video games to anime to trading cards to merchandise, what started out as a pair of RPGs on the Game Boy has become so multifaceted, the experience of being a Pokémon fan means something different to everybody. Even as Kotaku's resident Pokémon sicko who writes about the series every week for this column, it's impossible for me to keep up with everything.

In the grand scheme of things, Pokémon Go's not my favorite take on the series' collectathon. Even in the times that I've managed to get Go to work for me while visiting other cities or casually booting it up now that I live in NYC, it does feel a little jarring to mindlessly catch Pokémon without the narrative component that makes catching them more meaningful in the mainline games. But I understand that for some, filling up the Pokédex is the main draw of Pokémon games. However, it's a strange feeling standing in a park with people just as passionate as you about the little yellow mouse and all his friends and realizing that, until now, you missed out on a communal experience because you didn't live in a city.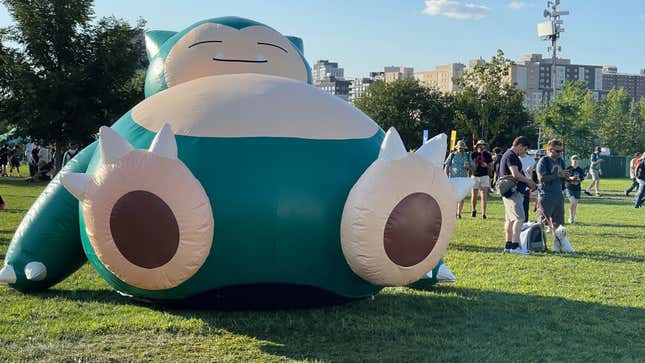 There aren't a ton of video game properties that can pull off a dedicated event and draw people in like Pokémon can. Go Fest brought in over 70,000 attendees from all around the world to Randall's Island Park, and that's not even accounting for the London and Osaka events that occurred earlier this month. By design, American events on this scale naturally gravitate to cities that can accommodate many people traveling to a central location, and by extension, Pokémon Go is built for walkable cities.
Niantic has a digital alternative for those who can't make it out, but none of that can match the collective experience of standing next to strangers and asking if they've got any cool Pokémon to trade while a giant Eevee balloon sways in the wind overhead. Go Fest made me appreciate what it's like to live in a big city, while simultaneously resentful of how so much infrastructure in America funnels into these huge metropolitan areas while rural areas are fighting for scraps and recognition.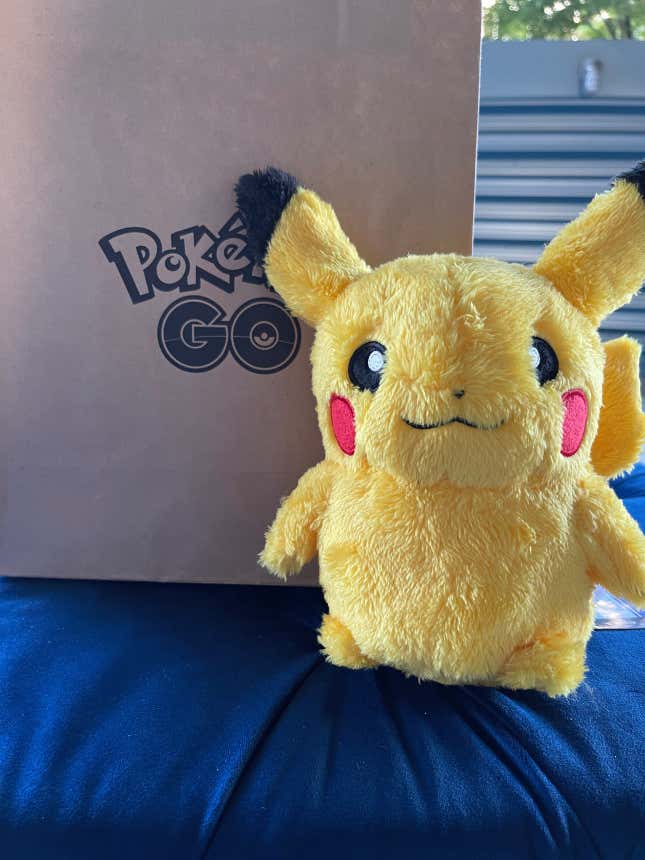 As I sat on the bus with all those people who have been collecting and catching Pokémon on their phones for years, I felt connected but still isolated. They each had stories of the places they'd traveled to play Pokémon Go, of the people and Pokémon they met on those travels, yet my only anecdote from the game is when I circled my Georgia backyard waiting for a Pikachu to spawn for my starter. He's still marked as my "buddy" walking alongside my avatar in the game, and I want to start going on adventures alongside him in New York City. But as I leave Go Fest, it feels like it's too late. I imagine this is what folks who have come into the franchise nine generations in might feel like about the prospect of "catching 'em all," because it all sounds so overwhelming. I don't know if 2023 is the time to get into Pokémon Go, but being around people who love Pokémon as much as I do at Go Fest made me feel like it's at least worth a try.