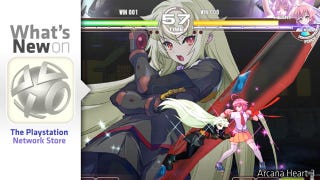 This week's North American PlayStation Store update seems to have a little something for everyone—as long as they're a PlayStation 3 or PSP owner, of course. From all-female fighting game Arcana Heart 3 to Fancy Pants Adventures to plenty of classic games, there's probably something fun for you here.
Retro gamers can tap into nostalgia with Turbografx-16 role-playing game Neutopia, Sega Genesis game Sonic the Hedgehog 2 or PlayStation classic Dino Crisis 2. Beyond that, there are some interesting Rock Band 3 tracks that are new to the PSN store and plenty of deals on old SOCOM games for the PSP and PlayStation 3.
See everything that's new for the PlayStation Network and PlayStation Plus in the long list below.
Games & Demos for PlayStation 3
Arcana Heart 3 ($29.99)
Fancy Pants Adventures ($9.99)
Neutopia ($5.99)
Sonic The Hedgehog 2 ($4.99)
Puzzle Agent ($9.99)
PSone Classics - Dino Crisis 2 ($5.99)
PSone Classics - Threads of Fate ($5.99)
Virtua Tennis 4 World Tour Demo
Fancy Pants Adventures Demo
Games & Demos for PSP
Neutopia ($5.99)
Puzzle Guzzle ($5.99)
Final Fantasy IV: The Complete Collection ($29.99)
Farm Frenzy – Minis ($4.99)
Snake Warriors: Training – Minis ($3.99)
Duael Invaders – Minis ($3.99)
Mad Blocker Alpha – Minis ($3.99)
Add-ons & Expansions
Hyperdimension Neptunia: Cat Ears (Black Heart) ($0.99)
Hyperdimension Neptunia: Closed Mail (H) ($0.99)
Hyperdimension Neptunia: Mail (L) ($0.99)
Hyperdimension Neptunia: Mail (S) ($0.99)
Hyperdimension Neptunia: Mail (W) ($0.99)
Hyperdimension Neptunia: Mystic Hat (Green Heart) ($0.99)
Hyperdimension Neptunia: Mystic Hat (White Heart) ($0.99)
Hyperdimension Neptunia: Open Mail (H) ($0.99)
Mortal Kombat Online Pass ($9.99)
Yoostar 2: They're Super Cops ($1.99)
Yoostar 2: Underwater Bliss ($0.99)
Yoostar 2: Why Don't We Go For A Cool Million? ($1.99)
Yoostar 2: I'm Gonna Propose To Melissa ($1.99)
Yoostar 2: I'm Not A Policeman – I'm A Princess! ($1.99)
Yoostar 2: You're With Me On This? ($1.99)
Yoostar 2: A Visit To Miracle Max ($1.99)
Yoostar 2: To The Pain ($1.99)
Yoostar 2: Hits Of The '80s ($6.99)
Yoostar 2: How Can 5 People Operate 1 Gun ($1.99)
Yoostar 2: Sit Down And Shut Up ($1.99)
Yoostar 2: Tommy Is So Tubular And All ($1.99)
ModNation Racers – Chocolate Bunny Mod ($1.75)
ModNation Racers – Chocolate Bunny Mod and Kart ($0.99)
Dj Hero 2: Ultra Mix Pack ($7.99)
Rock Band 3 tracks
"867-5309/Jenny" by Tommy Tutone ($1.99)
"Blood And Thunder" by Mastodon ($1.99)
"Breaking" by Anberlin ($1.99)
"Fire" by Ohio Players ($1.99)
"Love Rollercoaster" by Ohio Players ($1.99)
"Must Have Done Something Right" by Relient K ($1.99)
Rock Band Network tracks
"Endzeit" by Heaven Shall Burn ($1.99)
"Feast or Famine" by Within the Ruins ($1.99)
"Genius" by The B.O.L.T. ($0.99)
"Lemon Meringue Tie" by Dance Gavin Dance ($1.99)
"Paper Dolls" by Ballyhoo! ($0.99)
"Plague To End All Plagues" by Evile ($1.99)
"Snowmaiden" by Amberian Dawn ($1.99)
"Surprise Valley (Live)" by Widespread Panic ($1.99)
"Til All Are One" by Stan Bush ($1.99)
"You're A Wolf" by Sea Wolf ($0.99)
Game Videos
Pulse 4/19 Edition
Portal 2 – Bot Trust Trailer
Portal 2 – Turrets
Portal 2 – Co-op Trailer
Portal 2 – Panels
Major League Baseball 2K11 – Brian Wilson Perfect Game
Major League Baseball 2K11 – Brian Wilson Reflects
Major League Baseball 2K11 – Roy Halladay On Pitch Control
Top Spin 4 Opus Trailer
Elder Scrolls V: Skyrim Official Trailer
Dragon's Lair II: Time Warp Trailer
Battlefield 3 Faultline Trailer
Crysis 2 – The Crysis 2 Experience: Part 2 – "Semper Fi"
Fancy Pants Adventures – Online 4p Gameplay Trailer
Mass Effect 2 Arrival DLC Trailer
Shift 2 UNLEASHED – Pagani Trailer
Yakuza 4 Launch Trailer
Dungeon Siege 3 – Katarina Vignette Trailer
Fireburst Teaser Trailer
Muisc
PixelJunk Shooter Soundtrack ($7.99)
Themes, Wallpapers & Avatars
Battlefield 3 Theme (Free)
Focus Rally: America Dynamic Theme (Free)
Amazing Earth – Matterhorn Dynamic Theme ($2.99)
Amazing Earth – Australia's Coast Dynamic Theme ($2.99)
Amazing Earth – Blue Planet Dynamic Theme ($2.99)
Amazing Earth – Hawaiian Sunset Dynamic Theme ($2.99)
Amazing Earth – Lightning Storm Dynamic Theme ($2.99)
Amazing Earth – Rainbow Falls Dynamic Theme ($2.99)
Amazing Earth – Volcano Dynamic Theme ($2.99)
Arc Theme ($0.99)
Dragon Theme ($0.99)
Electric Theme ($0.99)
Abstract Shapes Theme ($0.99)
SOCOM 4: U.S. Navy SEALs – Avatar Bundle ($1.49) (x2)
SOCOM 4: U.S. Navy SEALs – Wells Avatar ($0.49) (x10)
Marvel Vs Capcom 3: Fate Of Two Worlds – Avatar Pack ($0.75 – $1.25) (x5)
Sales, Price Drops & Bundles
Marvel Vs Capcom 2 – Sale (PS3) (now $6.99, original price $14.99)
Blue Toad Murder Files Episodes 2-6 Upgrade Bundle – Sale (PS3) (now $9.99, original price $13.99)
Blue Toad Murder Files: Episode 1 – Sale (PS3) (now Free, original price $0.99)
SOCOM: Tactical Strike – Sale (PSP) (now $10.99, original price $15.99)
SOCOM Fireteam Bravo 3 – Sale (PSP) (now $27.99, original price $39.99)
SOCOM: U.S. Navy SEALs Fireteam Bravo – Sale (PSP) (now $6.99, original price $9.99)
SOCOM: Fireteam Bravo 2 – Sale (PSP) (now $13.99, original price $19.99)
SOCOM 4: U.S. Navy SEALs Soundtrack – Sale (PS3) (now $6.99, original price $9.99)
God of War: Ghost of Sparta – Sale (PSP) (now $29.99, original price $39.99)
Prince Of Persia Classic Trilogy HD ($39.99)
PlayStation Plus
Red Johnson Chronicles – Episode 1 (Exclusive to PlayStation Plus for $6.50)
Hamsterball End Sale (PlayStation Plus Price $3.99, regular price $9.99)
Red Johnson Chronicles Episode 1 (Exclusive to PlayStation Plus for $6.50)
Mad Blocker Alpha minis (PlayStation Plus Price $2.00, regular price $3.99)