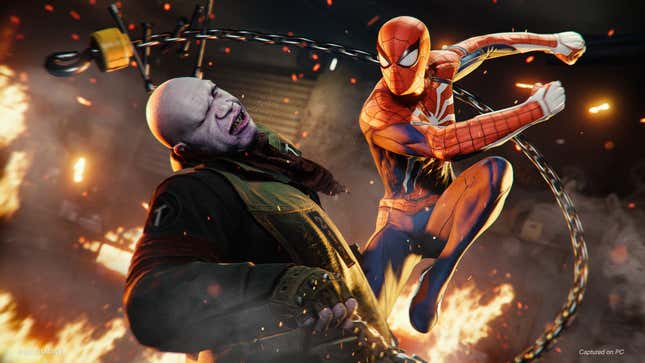 It's a new month, which means Sony's adding another crop of games to its PlayStation Plus vault for Extra and Premium subscribers. There are some good additions here, including Dishonored and Doom Eternal. But, as the saying goes, out with the old and in with the new: Insomniac Games' Marvel's Spider-Man is poised to get dropped from the PS Plus Game Catalog in May.

Thank You, PS Plus, For Making My Backlog Even Bigger
Read More: Playstation Plus Has A Couple Of Hidden Gems For April
PlayStation Plus is Sony's subscription service that gives you access to a plethora of games for a monthly fee. With three different tiers—Essential for $10, Extra for $15, and Premium for $18—you can play an assortment of new and old first- and third-party games, from God of War to Ghostwire: Tokyo. The list is vast, with a new set of games getting added every month.
Separate from its monthly base PS Plus offerings, Sony announced April's additions to its vast Game Catalog on the PlayStation Blog, which features the aforementioned Dishonored and Doom Eternal, alongside the emotional action-adventure game Kena: Bridge of Spirits, the extreme sports multiplayer sim Riders Republic, and the FPS Wolfenstein 2: The New Colossus. Tucked away in the post, though, was some fine print about the games leaving the PS Plus Game Catalog next month, and Marvel's Spider-Man is one of them.

First-party titles won't be in PS Plus Game Catalog forever 
Sony said the removal of Marvel's Spider-Man, alongside NBA 2K Playgrounds 2 and Resident Evil in May, is "part of our normal content refresh" before detailing how players can keep track of what games will leave the service.
"Members with Game Catalog benefits can still play by May 15. You can always check the 'Last chance to play section' on the PlayStation Plus -> Collections page on the PS5 console, or PlayStation Plus -> Games -> Games Catalog on the PS4 console for titles you might want to play before they leave the service."
For clarification: Base-level PS Plus members only ever get access to the monthly featured games, whereas those who pay for any of the other tiers get access to PlayStation's Game Catalog, which features up to 400 titles. If you have Game Catalog benefits, you can enjoy Marvel's Spider-Man and the other games leaving the monthly PS Plus offering until May 15.
Read More: PlayStation Unveils Game Pass Competitor That Will Let You Play Old Games
But once May 15 rolls around, the aforementioned games will be removed from the subscription service and you lose access even if you've downloaded them. If you want to continue playing, you'll have to purchase the game directly from the PlayStation Store. This practice of removing popular first-party titles doesn't bode well for PlayStation fans curious about what the company's getting up to, especially when compared to Xbox Game Pass, which tends to add and keep first-party games in its vault in perpetuity like Halo Infinite, Minecraft, and top Bethesda titles.
Kotaku reached out to Sony for comment.
Read More: PlayStation Boss Explains Why New Subscription Service Won't Have Game Pass' Biggest Feature
It's no secret that Sony is averse to adding first-party games to the PS Plus Game Catalog, with CEO Jim Ryan saying in March 2022 that doing so would diminish the quality of PlayStation's marquee titles. Meanwhile, Xbox has admitted that Game Pass causes the company to lose money. So, maybe we shouldn't be too surprised to see Sony eventually pull its first-party games from its subscription service as well, despite how much of a bummer that is. At any rate, if you're curious about what else is available this month, April's full PS Plus list is below:
PS Plus Extra and Premium (Game Catalog):
Bassmaster Fishing
Doom Eternal
The Evil Within
Kena: Bridge of Spirits
Monster Boy and the Cursed Kingdom
Paradise Killer
Riders Republic
Sackboy: A Big Adventure
Slay the Spire
Wolfenstein: The Old Blood
Wolfenstein 2: The New Colossus
PlayStation Premium (Classics):
Doom
Doom II
Doom 3
Doom 64
Dishonored: Definitive Edition