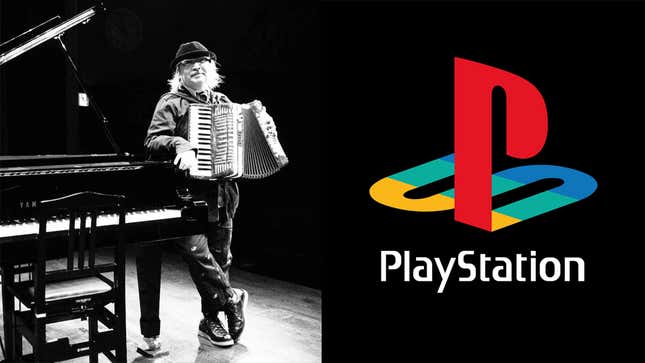 Tohru Okada, the Japanese musician behind the distinctive sound that has accompanied the PlayStation logo in advertisements for a quarter century, has passed away.
Why The Hot New Redfall Gameplay Trailer Left Us Feeling Cold
The news of Okada's passing was confirmed today by his bandmates on Twitter as well as the Japanese news site, Excite. According to Excite, Okada passed away at the age of 73 due to heart failure on the morning of February 14th.

Folks might not have known the composer by name prior to his passing, but they've definitely heard his sound throughout the many years of PlayStation commercials. Okada not only contributed to PlayStation's logo jingle, but he also composed a song that was used in some madcap, early Crash Bandicoot commercials in Japan, as noted by GameSpot. In case you're in need of a trip down memory lane, here's a video chronicling the evolution of the iconic logo sound that's punctuated the end of so many PlayStation commercials from the past 25 years.
Read More: Wait, The PS1 Logo Was A 3D Model?

Outside of his contribution as the creator of the PlayStation logo sound effect, Okada also served as a founding member of the influential Japanese rock band, The Moonriders. Serving as the band's keyboardist, Okada performed alongside fellow founder Keiichi Suzuki. Like Okada, Suzuki left a heavy impact on video games and anime with his music contributions to classic Nintendo RPGs like Mother (better known in the West as EarthBound Beginnings) and EarthBound as well as composing the score to Satoshi Kon's award-winning anime film, Tokyo Godfathers.
Last year, Okada announced his hospitalization due to a compression fracture, according to Excite. During that time, Okada's agency released a statement from him saying that his goal was to rehabilitate in time to perform at the Hyde Park Music Festival in Sayama, Japan, where he used to live, on April 29 and 30th. According to The Moonriders' official Facebook page, the band's performance has been canceled but its members plan to share their thoughts on Okada during the event.