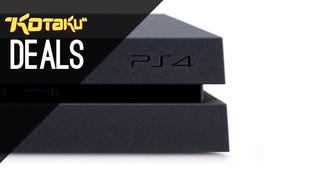 Frys has the first straight discount on the Playstation 4 today, $20 off, if you can get the site to load. In other Playstation 4 deals, you can pick up a pre-owned unit from CowBoom for whatever their lowest price is at the time, plus an additional $20 off with code 14599752.
We're definitely not anticipating a Playstation 4 price cut at E3, but a new bundle announcement is very possible.
---
Yesterday, we showed you a way to get $20 in Amazon App Store coins with the purchase of GTA San Andreas for $7. But today, Amazon's gone even further off the deep end with $9 of free Amazon Coins just for downloading nine free photo editing apps (listed below). The apps are normally paid, and many of them are actually quite good, so you'd be wise to grab them regardless.
Yesterday's GTA deal is still live, so if you missed it, you can actually buy the game with these free coins, and still collect your $20 bonus.
---
Far Cry 4 has a November 18 release date and you can pre-order for a free upgrade to the Deluxe version, plus release day delivery, pre-order price guarantee, no charge until shipping, and potentially no tax depending on your state.
---
90 minutes of deleted scenes! One of television's best, and one of my favorite shows ever finally gets the awesome package it deserves with Twin Peaks: The Entire Mystery. Pre-order to save (at least) $40. Ships July 29. [Twin Peaks: The Entire Mystery, $91]
---
Humblemania continues to run wild.
The Humble Store Spring Sale continues with deals on awesome games like Prison Architect and Rymkapsel.
The Doctor Who Humble Books Bundle is still available.
The Humble Weekly Platforming Bundle came out yesterday and includes Blocks that Matter and Mark of the Ninja.
The Humble Daily Banner Saga Bundle will still be around when this post goes live, followed shortly after at 2pm by a new Daily Bundle.
---
Watch Dogs pre-order with $15 Xbox Gift Card | One/360
Watch Dogs pre-order with $12 credit | PC
Watch Dogs Deluxe pre-order with $14 credit | PC
---
You can safely assume the Homeworld Remastered Collector's Edition is going to sell out. I wouldn't wait around.
---
pre-order and save on Cosmos: A Spacetime Odyssey, which has been going for $50 until yesterday.
---
Did you miss our deal on the most powerful man in the universe last weekend? Here's another chance.
---
You can never have too many USB ports.
---
To celebrate its anniversary sale, REI is allowing members to take 20% off a single item. While you could apply this to anything they sell, rarely-discounted GoPro cameras are a safe bet. You will need an REI membership to get this deal, but at $20 for a lifetime, that's not a deal killer.
---
This isn't a deal per se (but with the preorder price guarantee, it could become one), but the RX100 MarkIII looks like it's going to be amazing, so it may be worth locking in a preorder.
---
Cast iron offers easily the best bang for your buck in kitchenware, and this starter kit is marked down to its only $65. If you take good care of them, Lodge pans should last forever, and generally improve with age and occasional seasoning.
---
Today's Amazon Gold Box deal is features the highly rated Rubbermaid food storage system. You get 42 pieces for just $16, which is $10-$15 less than usual.
---
This innocuous little knife sharpener has proven to be one of the most popular items we've ever listed, and it's back down to $6 today. Grab one while you can!
---
Games
PC
Xbox One
PS3
Xbox 360
Board Games
Apps
iOS
Android
Movies and Television
Books
Home Theater
Peripherals
PC Parts
Home
Inventory
---
See all the upcoming releases here.
May 20
Wolfenstein | PS4/PS3/One/360/PC | Pre-order for Doom Beta Access
Drakengard 3 | PS3
Hakuoki: Stories of the Shinsengumi Limited Edition | PS3
Mugen Souls Z | PS4
Transistor | PS4/PC
Sparkle 2 | PS4/Vita
Serial Experiments Lain: Complete Series | Blu-ray
May 23
Tropico 5 | PC
May 27
Watch Dogs | PS4/PS3/One/360/PC
Sly Cooper Collection | Vita
Mind Zero | Vita
May 30
Mario Kart 8 | Wii U
---
June
---
June 3
Murdered: Soul Suspect | PS4/PS3/One/360/PC
Wildstar | PC
Hyperdimension Neptunia PP | Vita
Attack on Titan, Part 1, Limited Edition | Blu-ray | Also in standard edition
June 6
Tomodachi Life | 3DS
June 9
June 10
Enemy Front | PS3/360/PC
True Detective | Blu-ray
June 17
EA Sports UFC | PS4/One
The LEGO Movie: Everything Is Awesome Edition | Blu-ray | Also available in standard edition
House of Cards Season Two | Blu-ray
June 24
Transformers: Rise of the Dark Spark | PS4/PS3/One/360/Wii U/3DS/PC
Plants vs. Zombies: Garden Warfare | PC
BlazBlue: Chrono Phantasma | Vita
Star Trek: The Next Generation Season Six | Blu-ray
Orphan Black Season Two | Blu-ray
---
July
---
July 29
Hyperdimension Neptunia Re;Birth1 | Vita
Twin Peaks: The Entire Mystery | Blu-ray
Herzog: The Collection limited edition | Blu-ray
---
August
---
August 5
Akiba's Trip: Undead and Undressed | PS3/Vita
August 12
Disgaea 4: A Promise Revisited | Vita
August 19
Diablo III: Ultimate Evil Edition | PS4/One/PS3/360
August 22
Tales of Xillia 2 | PS3
August 26
The Evil Within | PS4/PS3/One/360/PC
The Walking Dead Season 4 Limited Edition | Blu-ray | Also available in standard edition
---
September
---
September 2