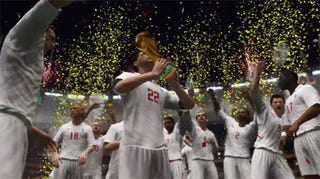 The 2010 World Cup is the biggest sporting event on the planet, and will keep billions of people glued to their TV sets for the next month not just for live matches, but for some video games as well.
Like the Olympics and Super Bowl tend to do, whenever a World Cup rolls around (they're held every four years), it brings out the competitive streak in people. It also brings out the super-fan in people, with even casual supporters of the sport feeling the need to recreate the matches as they happen, either to retreat into a fantasy world to cope with a loss or to try and predict the outcome of a game before it's actually played.
I know I'll be doing it over the next four weeks, as my beloved Australia do battle in an attempt not to win the World Cup - that's crazy talk - but to at least make a show of it. It's a similar situation Americans will find themselves in, with a team that's not really expected to challenge for the cup itself, but can at least hope to cause a few upsets along the way.
Perhaps starting with the game against England this weekend.
To help get you started, then, here's a list of some of the games I think can best help you get through the next month of football, whether you be a solo gamer looking for alternate history or a drinker looking to get shouty with your friends.
FIFA World Cup 2010
The obvious place to start is with this, EA Sports' official game of the World Cup. It's got everything you need to hold your own fantasy World Cup: official licenses, a tournament builder, full squads with (mostly) accurate player likenesses and even the inclusion of a full qualification mode, so disgruntled fans of teams that didn't make it - like, say, Ireland - can play Football God and slide their team into an otherwise realistic World Cup draw.
It supports both local and online multiplayer, and is available for the Xbox 360, PS3, PSP, Wii and iPhone (though, obviously, the quality of the version differs on the smaller platforms; we recommend the PS3/360 one).
FIFA Road To The World Cup 1998
Those on a budget - or after a more retro feel to their football - should instead turn towards this game, which many regard as the finest moment in the history of the FIFA series. It does everything outlined above, only it also allows you to edit the team's strips (something modern FIFA games do not) and, most awesomely, includes a 5v5 indoor mode.
The gameplay can feel a little arcadey in these days of real-world physics, but hey, some people like it that way. You can get it on the N64, PlayStation, Saturn, Game Boy, Genesis and SNES, though we recommend the PC version.
Pro Evolution Soccer 5
While the Pro Evo series has declined in both quality and market dominance in recent times, it's easy to forget that during the middle of the decade, it was king of the football games. And no game emphasised this more than Pro Evo 5, which I - and many of the series' fans - see as the pinnacle of the franchise to date.
It may suffer from the same woes as other Pro Evo games - few licenses and wooden animation - but it plays one hell of a game of football. I like 5 best because it was the most fluid, well-featured game before the series took its ill-prepared leap onto current generation hardware.
For the purposes of this World Cup, it boasts a few official team likenesses, and while many of the players have moved on in recent years, one of Pro Evo's strengths is its robust player and team editing suites, which for the patient can see you recreating the 2010 tournament in minute detail. So long as you're prepared to go without a few of the teams, that is.
Sensible World Of Soccer 96-97
If you prefer the kind of football you find in an arcade as opposed to the kind you find on the TV, this is your game. Sensible Soccer is a cult hit, a British title that dominated the football market for most of the 1990s through its ease of play and use of official teams, along with the fact you could edit just about everything so you and your mates could line up for the team of your choice.
By today's standards it's crude, but by today's standards it's also charming in a way EA Sports could never manage. I recommend the 96-97 edition because yiou can grab an unofficial update for it that's full of official licenses and teams from the 1998 World Cup in France, meaning you've got less work to do in terms of editing since around half the teams are the same (even if their rosters are not).
That should be more than enough to keep you and your mates occupied over the next four weeks, especially if there's going to be beer and World Cup parties involved. If you could only get one of the games above I'd have to say get the official EA game, and if you had to get a second, probably Sensible Soccer, since it's such a different kind of game.