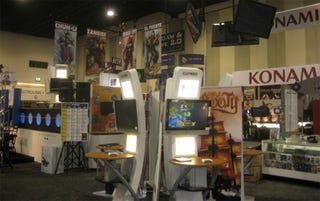 We snuck in (legitimately!) to the Comic-Con 08 show floor prior to the opening of the show, poking around the nearly empty booths before we grabbed our press passes. There's a pretty sizable gaming presence this year — much bigger than the last. Konami, Sony Computer Entertainment America, Ubisoft, SOE, EA and Capcom are among the bigger publishers taking up a floorspace this year, with playable demos, limited edition merchandise and coveted swag ripe for the taking.
The Comic-Con masses were just admitted, mere minutes ago, into the show floor. Take a look at the virginal booths, before they were violated by the collectible hunting horde.
We'll be checking in with everyone (and finally getting our hands on the new Prince of Persia!) throughout the week.