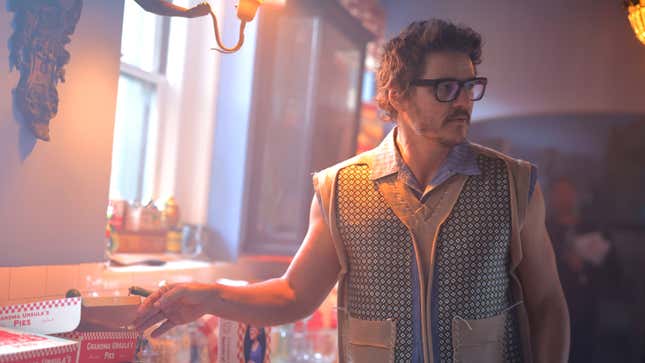 Pedro Pascal clearly gives it his all no matter what role he's diving into. Nothing has convinced me more of this fact than Pascal's recent turn as the face of mobile game Merge Mansion, which now includes his attendance at a real-life recreation of the in-game manor. Pascal not only showed up but also showed out.
The Week In Games: System Shock, Street Fighter 6, And More
Merge Mansion is a simple puzzle game where you combine materials until you get whatever your current assignment asks of you. Pascal has taken the role of the dogged detective Tim Rockford sleuthing out whatever Grandma Ursula is doing in the Merge Mansion Cinematic Universe. All we know from previous ads is that granny is highly suspicious and her granddaughter, Maddie, is none the wiser. Previous promotional videos show granny being arrested, holding up a hand as the police car she sits in the back of pulls away. The message on her palm reads either, "He is alive," or, "You're next," depending on the video. Very weird, gran-gran!
It was a head-turner enough to see the Hollywood Daddy of the Moment in an ad for a mobile game, but the in-person promotional event has spurred further curiosity.
The event appears to have taken place Tuesday and was attended by actors Jesse Williams and Ashley Benson in addition to Pascal. Other attendees included former Buzzfeed Unsolved stars and current hosts of Watcher Ryan Bergara and Shane Madej, YouTuber MatPat, and The Bachelor and Bachelor in Paradise stars Genevieve Parisi and Deandra Kanu, among others. I guess finding love on reality TV is a bit of a puzzle to solve in itself.
But what truly had me and others online so enthralled was the drip, the style, the magnificence, that Pascal brought to the event. It's unclear if his usual stylist, Julie Ragolia, is to credit for this latest work of art as neither have posted about the event or iconic look. But we'll take it all the same. Decked in a slouchy but well-tailored pant and a Maison Margiela "camp-collar deconstructed vest" that retails between $1,400 and over $1,600, the A-lister ratchets up the prestige of the entire affair. A blue collar pokes out of the silk vest, meant to look inside out and still in the sewing process. Is it because he's still in the process of unwinding the truth? The colors and pattern on the vest feel cohesive with the eponymous mansion seen in the game and which the guests explored in person. Further, maison is French for house. Coincidence? Unlikely.

Correction: Wednesday, March 29, 5:14 p.m. ET: This story has been amended to accurately reflect Ryan Bergara and Shane Madej's jobs.