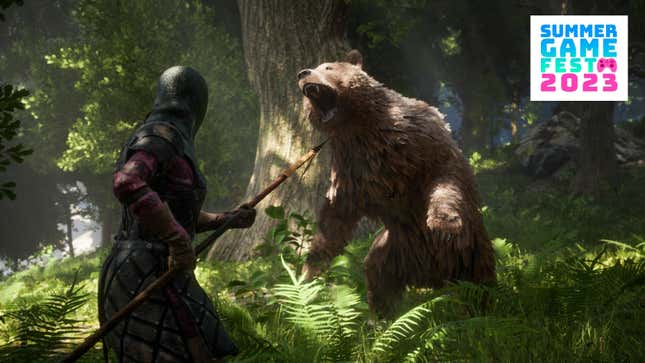 Once part of E3, the PC Gaming Show has more recently leapt into the loving arms of Saint Geoff, making its appearance on Sunday night's section of the Summer Game Fest. The two-hour show offered us footage from dozens and dozens of games, but also rather unfortunately thought it might be a good idea to perform a very unfunny skit for its entire 120-minute run. To save you from the feature-length cringe, we've picked out the most interesting games from the stream.

Horror Game You've Never Heard Of Is Scientifically The Scariest Ever
---
Nivalis
Nivalis looks astonishing. From Ion Lands, who previously brought us 2020's excellent open world sci-fi Cloudpunk, this is a game that's part life sim, part immersive sim, finding you running a noodle bar while avoiding a serial killer, and even looking for love. It's hugely ambitious, but the studio has form, and there are many reasons to be excited about this one. It's due out in 2024.
---
Pax Dei
MMOs are very definitely long out of fashion, but Pax Dei looks like a fresh take on the genre. Well, that or it's been so long since Ultima Online that the idea of a social, sandbox MMO feels fresh all over again. It's set in a medieval era, in a world where ghosts exist, and magic is real, but so much of the game is about creating your own stories and relationship with other players.
---
Path of Exile 2
We're enormously looking forward to Path of Exile 2, given just how superb the first game continues to be some ten years after its release. But this trailer ain't it. I'm including it because it was sadly indicative of how poor so many of the trailers were in the grueling two hours of the stream, which either showed cartoons instead of in-game footage, or, like this, picked the worst possible section to feature. PoE2 will be filled with many different areas, so how about you don't pick 30 seconds of a beige character running across a beige, bland series of tiles, to fight a beige monster. Just bizarre.

---
Citizen Sleeper 2: Starward Vector
2022's Citizen Sleeper proved an enormously compelling RPG, driven by the principles of table-top gaming, with a well-written narrative set within "the ruins of interplanetary capitalism." So it's fantastic to know a sequel is already happening, with loads of footage revealed today.
---
Dread Pilots
Klei, they of hits like Griftlands and Don't Starve, revealed their next game during the show. It's Dread Pilots, a space survival game about exploring a pocket universe called the Dread.
The art isn't particular inspiring in the trailer (apart from the great cartoons), and it doesn't do a great job of explaining what it's about, but...well, Klei make amazing games, and there's every reason to hope this will live up to their stellar reputation.
---
Altered Alma
Yet another trailer filled with excellent cartoons that have nothing to do with the actual game, but when you do see the footage, it shines. It's a Metroidvania with a bunch of RPG ideas woven in, and then some dating sim for good measure.
---
The Invincible
Based on the novel by sci-fi author Stanisław Lem, in The Invincible you play as astrobiologist Yasna, exploring a planet called Regis III. However, the world is a hostile one, and you're soon looking for lost crewmates in what looks like a cerebral and unique first-person adventure.
---
Chimera
Chimera is the sophomore project from Green Hell developers Creepy Jar. And given how astonishingly well their previous survival game did, there's every reason to pay close attention to their next. This time out you're on a mysterious planet in an open-world base-building sim, and yeah, we're as confused as you are. Apparently you'll be able to build "complex industrial systems," as well as play alongside four other friends.
---
Fortune's Run
A character called Dying Son, who sings in a mournful voice, is enough to bring me in. That this turns out to be a 2.5D FPS, with a demo out right now, seals the deal. This looks gloriously scrappy, and promises "immersive sim elements."
---
Breathedge 2
Breathedge was a weird game. Not just for all the sometimes strained ways in which it was trying to be weird, with its somewhat awkward sense of humor, but also for the way what begins as a superb space survival game changes tack halfway through to become something else entirely. Hopefully they'll have learned from the negative critical reaction to that decision, and focus on what the first game did really well: being Subnautica in space.
---
Kotaku is covering everything Summer Game Fest, from the main show on Thursday to other events happening throughout the next week. Whether you're into larger-than-life triple-A games or intimate, offbeat indies, you can keep up with all things SGF here.