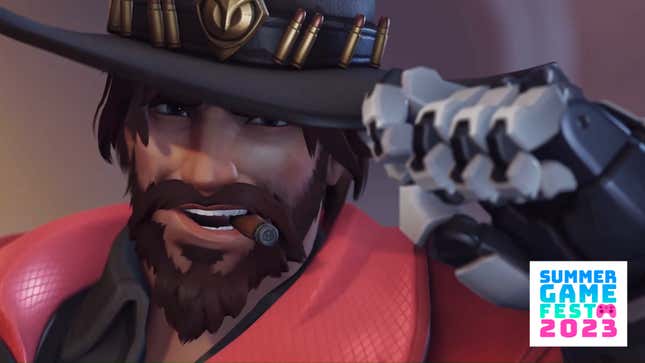 Overwatch 2 has been in a bit of a bad spot after Blizzard recently announced it was gutting the game's promised PvE modes. But for those who were wondering about the story missions the company showed off when it revealed the game in 2019, they can rest somewhat easy: Overwatch story still exists, and we got a new glimpse of it during Xbox's Summer Game Fest showcase.

Why Mario Strikers: Battle League Could Be Nintendo's Next Multiplayer Hit
As Blizzard previously announced, the story missions will launch as part of Overwatch 2's sixth season, with the first of its content launching on August 10. The new trailer shows new scenes between the heroes in the story mode, as well as new modes and content that will come as part of season six. There's a new Flashpoint mode that is still a bit unclear, a Hero Mastery mode that lets you play hero-specific challenges, a new co-op event that gives the Push robot weapons of his own, and a firing range to hone your aim.
At the very end of the trailer there's a brief tease of what certainly looks like the new support hero that will launch during season six.
On top of all the new stuff, Blizzard also announced plans to launch a New Heroes Starter Pack on August 10 that will give you access to all the new heroes that launched with the sequel (Sojourn, Ramattra, Lifeweaver, Kiriko, and Junker Queen) without having to unlock them through battle apsses. If you're subscribed to Game Pass Ultimate, you'll get the starter pack for free.
Overwatch 2 is wrapping up its fourth season, and the fifth season kicks off on June 13. It will have a fantasy theme, including a mythic skin for Tracer that will unlock in pieces throughout the battle pass, rather than just at the end.
---
Kotaku is covering everything Summer Game Fest, from the main show on Thursday to other events happening throughout the next week. Whether you're into larger-than-life triple-A games or intimate, offbeat indies, you can keep up with all things SGF here.