I spent my first hour with Origin PC's Geforce GTX 1080-powered, 34-inch ultra-wide curved screen Omni all-in-one gaming PC just staring at my desk. There's a lot more of desk now. I didn't know I had so much desk.

Elden Ring's Top Five Spells, According To FromSoftWare's Stats
Technically I spent the first hour looking for my power screwdriver to extricate the system from the obligatory wooden crate, all part of the Origin PC purchasing process. I imagine someone purchasing one of these instead of having to store a large wooden crate in their cramped apartment home for several weeks while they review the system would be tickled pink. We've been using the crate as a side table.
But then, so much desk. I'd removed my normal work tower from the surface in order to make room, but I really didn't have to. Even now, as I sit in front of the Omni writing this review, my eyes continuously shift left and right, anxious about the lack of clutter.
G/O Media may get a commission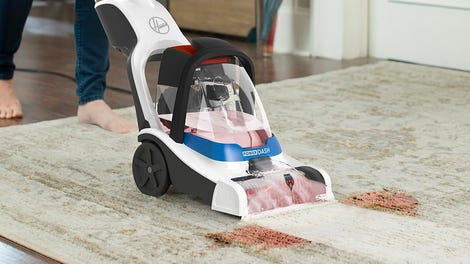 26% Off
Hoover PowerDash Pet Compact Carpet Cleaner
This must be what a Mac user feels like all the time.

An all-in-one computer combines a monitor and computer into a single unit, generally with a smaller footprint. Apple's always been a big proponent of the design, and when I started seeing computers in school (I'm so old) they were mainly boxy Macs. When I got my first real computer, I was surprised a monitor was not attached to it.
Technology has changed significantly since those days. We've got cellular telephones, color televisions, fire and the ability to stuff a powerful PC behind a top-of-the-line monitor, leaving plenty of room on my desk for toys.
Enter the Origin Omni. Alone it looks like a strangely-thick 34-inch curved screen ultra-wide (3440 x 1440) quad HD monitor, which it is. It's just got some junk in the truck, and by junk I mean high-end PC parts.

Strip away the back panel of the monitor, and you've got a full-sized monitorboard, full-sized graphics card, memory, wires, fans, some cooling bits. You know, the stuff inside a computer, only Tetris'd into a much flatter form factor.
Adding only a small amount of thickness to the monitor and a bunch of heft) transforms it into a relatively low-compromise PC enclosure. It's got a full-size ASUS Z170I Pro Gaming motherboard fitted with a watercooled Intel Core i7 6700K Quad-Core 4.0GHz CPU, a Geforce GTX 1080 graphics card, 16GB of Kingston DDR4 memory and two hard drives, a 250GB Samsung SSD and a 2TB Seagate Sata drive.
The only real compromise here is the power supply, which in an Origin-branded 450 watt, which is right on the edge of what the Geforce GTX 1080 card supports. But hey, it's worked like a charm so far, so I won't argue with results.
Here's the parts list, as configured at the Origin PC website:
Case: Origin Omni
Display Type: Omni 34" 3440 x 1440 Curved Ultra-Wide 60Hz Matte Display
Power Supply: Built-In 450 Watt
Motherboard: ASUS Z170I Pro Gaming
System Cooling: Built-In Closed Loop Liquid Cooling Solution for 1151
Processors: Intel Core i5 6500 Quad-Core 3.2GHz (3.6GHz TurboBoost)
Graphic Cards: Single 8GB NVIDIA GeForce GTX 1080 Founders Edition
Memory: 16GB Origin PC DDR4 Powered by Kingston 2666MHz (2 X 8GB)
Operating System: MS Windows 10 Home
Hard Drive One (Operating System Drive #1): FREE 250GB Samsung 750 EVO Series
Hard Drive Two: 2TB Seagate 5400RPM 2.5" Hard Drive
Audio: On Board High Definition 8-Channel Audio
Networking: Onboard Network Port
Warranty: Lifetime 24/7 U.S. Based Support and Lifetime Free Labor. 1 Year Part Replacement & 45 Day Shipping Warranty
Webcam: Omni Webcam (Included with Omni)
Price as configured: $3,101
The price looks high, but considering the price of a 34 inch curved QHD monitor standalone, the individual components and the lifetime support and free labor warranty, it all adds up to about right. Plus you get a free t-shirt, and a lovely wooden side table with built-in storage.
What's Good
Performance: This is a gaming PC, and it games quite well, thanks in no small part to the Geforce GTX 1080 Founder's Edition that comes packed inside of it. I reviewed the card and found it very impressive, delivering more than playable performance (at the very least 30 FPS) on most modern games at 4K resolution. But this system isn't 4K. It's Ultra Wide 3440 x 1440. That means it's not pushing as many pixels as a 4K screen, but it's delivering an enhanced experience in supported games.
We're talking 60 frames per second easy at highest settings on most games I played, including World of Warcraft, Deus Ex: Human Revolution, World of Warcraft, Hitman, a nifty little Steam futuristic racing game called Redout, Rise of the Tomb Raider and World of Warcraft.
Let's take Rise of the Tomb Raider as an example. In my 1080 review I clocked it at an average of 44 frames per second on high settings at 4K. The same settings running at wide QHD delivered 66 frames per second on average. Plus the views are so much more expansive.
Profile: It's a monitor, at least that's what it looks like sitting on your desk.
I must admit that there's a part of me that's having an issue with not having a big box with random LED lighting sitting on top of my desk, but that part of me is silly. This is an elegant computer solution that makes me feel bad for making fun of all the folks in the office typing directly into their iMac monitors.

The Panel: Curved monitors are stupid, until you spend an hour in front of one. It's not exactly immersion so much as it is a deeper intimacy between you and your display, like it's constantly trying to embrace you but it just can't. I've fiddled with ultra-wide monitors that weren't curved, and there was always something just a little bit off. The curve makes a ton of difference when you're working with the extra real estate, bringing the far edges of the screen a little closer.
Note the monitor also has HDMI in and picture-in-picture capabilities, so it doesn't just have to be your PC.
I only wish the panel had a better refresh rate than 60hz. Otherwise it's bright, inviting and—best of all—you can't really tell there's a PC behind it unless you're looking for it.
What's Not So Good
The Noise: When the fans of the Origin Omni all-in-one kick in, you know it. I didn't notice it much at first, when I had the system set up in my always-noisy livingroom, but once I made the move to my office it's hard to ignore.
The noise is low but constant during everyday use. When a game gets going it can rises to a low roar, with a bit of a rattle while ramping up. Not quite deal-breaking levels of noise, but load enough to bear mentioning.
Port Access: The ports for the motherboard and graphics card are located on the underside of the monitor, and they can be a bitch to get to. While there are a pair of USB ports on the back and one up top (for the webcam), the rest of the Omni's plugs and ports are on the underside, accessed either by tilting the system back on its stand or turning it around and removing a strip of back plate.
Either way it's a bit of hassle—I'd suggest getting a USB hub and forgetting the underports entirely.

All-In-One Gaming Works
Thank goodness for the flat panel display, so thin that we can all sorts of lovely things behind it. Between Apple systems and consumer-aimed IBM compatibles (there's me aging myself), all-in-one systems have been enjoying a renaissance over the past decade. Until recently however, I've been looking at them as either work machines (blame Gawker's iMac fetish) or easy-to-use, less-powerful PCs of the sort I might buy a parent for Christmas.
The Origin Omni (and systems like it) has shown me that all-in-one systems can be powerful gaming systems as well, as long as they've got a big enough monitor up front to hide all the goodies.
Now to get this beast back in its crate. Gonna miss that side table.