Next week, YouTuber of suicide forest infamy Logan Paul will step into the ring for his first-ever boxing match against marginally more experienced YouTuber-turned-boxer KSI. The fight will be hilariously bad. So of course, people are already talking about Paul's promising future as a UFC fighter.

It all began last week when Paul told TMZ that he hopes to keep the combat sports train right on a-rolling after he and KSI play sloppy, big-gloved patty cake for however many rounds it takes for them to both get tired.
"I want to fight a UFC fighter," he said. "I've done athletics my whole life... Dana White, are you watching this, bro? Pick a fight for me."
CM Punk, a nearly 40-year-old former WWE superstar who's fought in the octagon against one relative newcomer and one photojournalist and lost by embarrassing massacre both times, is a viable option according to Logan. His brother Jake also suggested former two-division champion turned professional boat philosopher Conor McGregor, to which Paul responded that that a match with McGregor is his ultimate goal. He's gotta prove himself against a 39-year-old non-fighter first, though.
None of this will ever happen, even in today's "money fight"-obsessed UFC that recently paired two-division champion Daniel Cormier against a busted doping cheat who hasn't officially won a fight since 2010 in Brock Lesnar. And yet, people are entertaining the idea of Logan Paul joining the world's foremost MMA promotion, because the summer is hot and boring, and I guess they don't have anything better to do. Faze Sensei, a martial artist and trainer who's part of esports organization Faze Clan, has said he thinks there's a very real chance that Paul will end up in the UFC, and that he could be a "monster." UFC welterweight champion Tyron Woodley voiced doubt that Paul could even handle CM Punk, but conceded that his experience with high school wrestling and now boxing could be big assets.
G/O Media may get a commission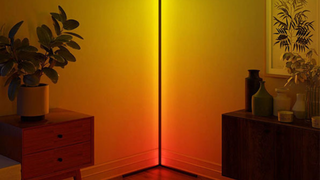 Save 60%
Minimalist LED Corner Floor Lamp
All that said, I've hand-picked a list of fights that I think would be perfect for Paul given his age, level of experience, and combat sports background. Here's what I've come up with:
1. CM Punk: Pretty self-explanatory at this point, though I'm honestly not sure who would win this fight.
2. Jon Jones. No, no, not that Jon Jones. The other Jon Jones. He's a great guy with a fantastic mustache, and he's gotten into jiu jitsu training recently. Honestly, I think he wins this.
3. Knife crab: No human alive wins this fight, least of all Logan Paul.
4. 1/19388374347473854858372th of a Goku: Still probably not a fair fight.
5. The entire nation of Japan: If there's any justice in the universe, this fight will happen.
6. The YouTube algorithm: This fight is arguably already happening, and Logan will eventually lose in devastating fashion.
7. Father time: See "the YouTube algorithm."
8. Milkshake duck: See "father time" and "the YouTube algorithm."
9. Getting hit by a tree that falls on him while he's turning somebody else's personal tragedy into content
10. Jake Paul: Whoever loses, everybody wins.