If it lives up to Sony's expectations, Home will end a money-printing extravaganza. If. So Sony won't just let any old chum with a dev kit work on it! They're only letting these developers.
There are 24 companies in all, ranging from the expected (Activision, Sega) to the unexpected (D3) to the borderline unknown. And those 24 are:
Atlus
Activision
Acquire
Irem
EA
SNK
AQ Interactive
GungHo
Games Republic
Q Entertainment
Capcom
Koei
Hudson
Sega
Disney
D3
Spike
Genki
Nippon Ichi
Ubisoft
Bandai Namco
Paon
Tecmo
Konami
It's a list that's more interesting for who's not on there, as opposed to who is. No Take-Two? No Atari? No THQ, no Midway, Lucasarts?
No Square Enix?
SCE正田氏、「PlayStation Network」のストラテジーを語るPSN会員は190万、「Home」はPSユーザーのための「新しい遊び場」 [Game Watch]
G/O Media may get a commission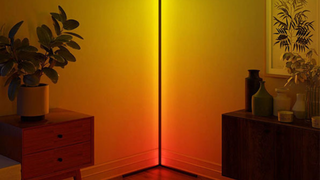 Save 60%
Minimalist LED Corner Floor Lamp