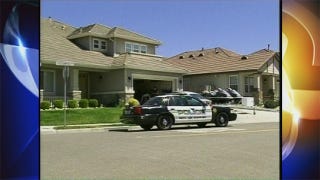 An unspecified online game is suspected of leading to a stabbing and attempted shooting in Oakley, California, with a 17 year-old boy now in police custody following the incident.
On Monday afternoon the arrested teen and a 20 year-old man - reportedly a "family friend" - had been playing the mystery game together online when the 17 year-old allegedly arrived at the doorstep of his victim, and after a confrontation was refused entry. That's when things got messy, with the teen brandishing a gun.
The victim's mother says "He actually had the gun aimed at me, but he shot at my son. I went downstairs to call the police and he ran downstairs, put his gun down, ran back up the stairs and evidently — I thought they were fist-fighting — he was stabbing the h*ll out of my son."
The shot missed, but the 20 year-old man is currently in a stable condition from the multiple stab wounds he suffered.
Police say the pair were playing against each other online right before the attack, and are currently investigating just what exactly was said/done to take things from "playing a game" to "stabbing/shooting at the guy".
Teen shoots, stabs neighbor after playing video game [KTVU, via Game Politics]