While conceived as a device meant to expand the reach of Microsoft's Xbox 360 gaming platform by allowing people to play video games without the need for controllers, the Kinect has always been destined for a broader future.
Last November, when the Kinect array of microphones, sensors and cameras was on the cusp of hitting the game console I chatted with the folks behind the technology about that future. Inspired by their unusual technology and motivated to sell it to the world, they aimed for great things
On its surface the Kinect is much like the Wii and Playstation 3 Move, allowing gamers to play with natural motions, but the tech behind Microsoft's device is very different. Where the other two devices track movement of a physical controller, Kinect tracks a body in motion. Then it uses algorithms to build a virtual skeletal system of the player. This visual tracking is augmented by microphones and software that can pinpoint where a person is standing and track their movement, carefully picking out what they say and interpreting it.
The relatively inexpensive technology was destined for cellphones, computers, cars, the military, health care, academics, I was told at the time.
The first small steps toward that future are now beginning to come true.
Earlier this year, Microsoft opened up the device and its development software to hobbyists and academics, supporting a surprising eclectic use of the Kinect. The results included applications for healthcare, education and art.
G/O Media may get a commission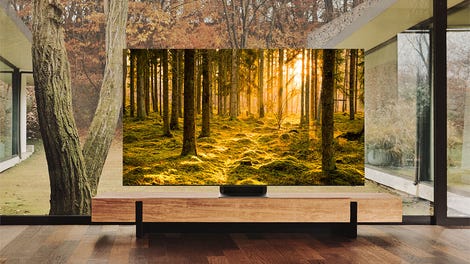 Up to 40% off
Samsung Smart TVs
Today Microsoft is unveiling the next step in the expanded use of Kinect technology, a commercial program that will open the hardware and software to developers for use in businesses. More than 200 businesses and 20 brands worldwide have already joined the pilot program, which officially launches early next year. Among the companies already signed up are Toyota, Houghton Mifflin Harcourt and Razorfish.
"We've had a skunk-works team working with some of these partners for awhile," said David Dennis, group program manager of Microsoft's Xbox team. "Today we're lifting the veil of secrecy off of that program."
The pilot program had Microsoft prototyping new concepts with businesses. The end result will be programs that use the familiar Kinect array in retail stores, auto dealerships, banks and other public locations.
Dennis said companies will be able to purchase the Kinect in bulk from Microsoft and that the only difference between the Kinect they will be using and the one used with an Xbox 360 is that the commercial ones won't have the Xbox 360 logo on them. They'll just say Kinect.
He did acknowledge that while the Kinect being sold as part of this program is the same as the retail Kinect, the retail Kinect has changed slightly since its launch as some of the parts have been tweaked to "wring costs savings" out of the device in mass production.
The expectation is that the device could be sold to large companies in the "tens of thousands," Dennis said.
Dennis said that Kinect could be seen as a device that could give a business an edge over competitors so many pilot program businesses don't want to talk about their plans until they're ready to roll it out. A lot of announcements are expected at next year's Consumer Electronics Show, he said. Toyota declined to discuss their intentions with the device.
Global marketing firm Razorfish has plans around the technology that seem to center around making it easier for potential customers to interact with displays, or tracking their use of marketing kiosks.
"We are pretty excited about the commercial program around Kinect," said Jonathan Hull, vice president of emerging technology at Razorfish. "We do a lot of custom digital experiences for our clients. We're looking at Kinect to be one of the pillars. We are really happy to see official support for commercial applications with our clients."
Hull said they're already looking at creating kiosks that would allow a person to have their body scanned and then try on digital clothes and accessories in real time. The live feed from Kinect would allow a person to see themselves wearing and moving in the clothing and accessories. It would also allow for very precise measurements which could be stored and used from home to order clothing that the customer could be sure would fit.
In other applications, like with banks or other kiosks, the Kinect would simply be the way customers would interact with the information presented on a screen. So, for instance, a person could just wave their hand at the screen to turn pages or scroll through information.
"Ubiquity is so important with this," Hull said. "The fact you don't have a controller, don't have to physically touch something is important."
A Delta Airline kiosk recently installed at Madison Square Garden uses the Kinect to track what a person is doing to gauge how people are using the information and reacting to it.
While this next step in Kinect tech usage is very heavily market driven, it opens the door for getting the hardware into a lot of locations quickly.
Dennis declined to talk about future steps for spreading Kinect technology to other sectors, but this fits in with the plan Microsoft talked to me about a year ago.
The next steps would likely include taking that technology out of the familiar Kinect array and putting into things like cars, phones and other consumer electronics.
---
You can contact Brian Crecente, the author of this post, at brian@kotaku.com. You can also find him on Twitter, Facebook, and lurking around our #tips page.