Disappointed with the three to eight hour battery life of the Nintendo 3DS? Accessory manufacturer Nyko will be ready at launch with the Power Pak+, an add-on device that promises to double the interval between 3DS battery chargings.
What you're seeing here is actually two products Nyko has lined up to support 3DS gamers when the system hits North America on March 27. The first is the Power Pak+, a high capacity battery that hooks onto the back of the 3DS, adding extra power at the cost of added bulk. They say the device, which retails at $19.99, will double the battery life of the 3DS, effectively transforming three to eight hours into up to 16 hours. Seems like a fair exchange to me, especially seeing as the Power Pak+ features debossed finger rests for greater comfort.
Update: Nyko has sent along a picture of the Power Pak+ attatched to a 3DS. The unit comes with a special tool to unscrew the back of the 3DS, and replaces the standard battery.
G/O Media may get a commission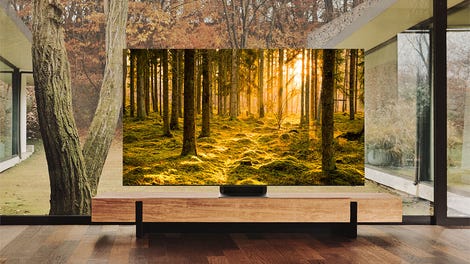 Up to 40% off
Samsung Smart TVs
Then there's the Charge Base. Arriving a week after launch and packed along with one of the Power Pak+ units, the charge base will allow players to drop their 3DS unit inside for a little juicing up while not in play. Considering the base and Power Pak+ combo is only $29.99, it might be worth waiting a week to get both.
I'm generally never far from a wall socket when playing my DSi, so I don't see myself needing one of these, but for gaming on the go they might be an essential addition to your 3DS arsenal.