Last year Nvidia launched its Pascal gaming line with the GTX 1080, bringing capable 4K PC gaming to the masses. The new Geforce GTX 1080 Ti upgrades that "capable" to "comfortable."
The original GTX 1080 is an excellent graphics card that hits at least 30 frames per second on most contemporary PC games, especially when some of the more extraneous settings are dialed back.
Thing is, I am not a big fan of dialing back. I like to install a game, set everything to "ultra" or its equivalent, and then never go into the graphics settings menu again. I know there are settings that I wouldn't even notice were sub-optimal with these aging eyes, but I can still read a slide, dammit. Don't touch my thermostat, kids.
If I can't play at 30 frames-per-second or higher on ultra, I dial things back to 2K or 1920 x 1080. I've been doing a lot less dialing back since I installed the Geforce GTX 1080 Ti.
What It Is
The GTX 780 begat the 780 Ti, the GTX 980 begat the 980 Ti, and now the GTX 1080 begets the GTX 1080 Ti. Upgrading their flagship card with a Ti (or titanium) version has become a tradition with Nvidia, and this time around they've done it up big. According to the card's review materials, the 1080 Ti marks the biggest jump in power in the history of making people feel bad for buying the first one, something like a 35 percent jump.
G/O Media may get a commission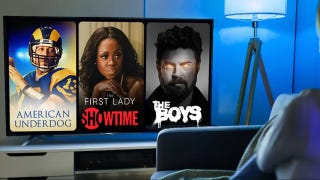 UNDER $1
99¢ Prime Video Channels
Adding insult to humility, the GTX 1080 Ti retails for $699, or the same price as the plain 1080 launched at last year, with the older card dropping to $499 (at least Nvidia's Founders Edition, third-party cards will vary).
Not only does the Geforce GTX 1080 Ti outperform its direct predecessor in Nvidia's gaming line, it also performs better than the $1,200 Titan X. Folks who hopped over to Nvidia's enterprise line to leapfrog the plain 1080 at a premium are likely feeling very silly right now.
Here are the specs for the Nvidia Geforce GTX 1080 Ti.
And here's a quick comparison of the 1080 Ti versus the original 1080. Ti numbers are on the left.
More shader units are nice. More memory is nicer. Faster memory with a wider interface results in a huge leap in memory bandwidth, which makes a massive difference.
The GTX 1080 Ti is more akin to the latest Nvidia Titan X card. It uses the same Pascal-based GP102 graphics processing unit as the Titan X with a slightly faster clock speed. It's got 11 GB of memory to the Titan's 12 GB, but it's running a bit faster, resulting in slightly more memory bandwidth.
It's pretty much a monster.
Performance
That's right, we're skipping the regular "What I Did With It" section, because you know what I did with it. I played video games, and I played them very well. Well, the card ran them well.
Let me start with the biggie. Every time I review a graphics card, one benchmark in particular kicks that card's ass. That's the Metro Last Light Redux bench. This benchmark is one of the biggest assholes. There was a time when I wondered if any card would break 30 FPS average at 1920 x 1080.
The Geforce GTX 1080 Ti averaged just over 40 frames per second in Metro's demanding benchmark, all bells and whistles checked. At 4K.
Review's over, you can all go home how.
Okay, fine. Rise of the Tomb Raider, another notoriously challenging benchmark, though nowhere near as bad as Metro. GTX 1080 Ti managed 62 frames per second on average at 4K in the DirectX 12 version of the game. Hitman at 3840 x 2160?  Over 70 frames per second average in DirectX 12.
It's not all 60 frames per second and sunshine. Grand Theft Auto V running at 4K on ultra settings only managed an average around 54 frames per second on my system. If only I could dial back just one thing, but alas, I am trapped in this endless hell, where my really demanding computer video game falls mere points from perfection and I'll just shut up now.
Want a bit more depth? Our friends over at Techspot went deep with the 1080 Ti, looking at power consumption, temperatures and several games we didn't get to. They even created this handy performance comparison chart between the GTX 1080 and 1080 Ti.
Final Thoughts

If you're looking for a graphics card to run games at 4K, the Nvidia Geforce GTX 1080 Ti is your card. If you're looking for an outstanding virtual reality gaming experience, then the Geforce 1080 Ti is your card. If you want to make anyone who bought a Nvidia Titan X for gaming last year feel really bad, the GTX 1080 is definitely your card.
The only situation in which I wouldn't recommend picking up a Geforce GTX 1080 Ti is if you aren't ready for 4K gaming yet. If you just want to bash on games at 1920 x 1080, the more affordable GTX 1070 is your card.