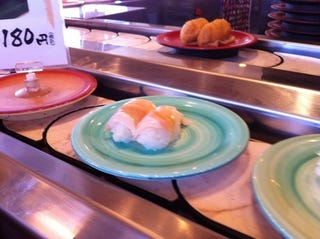 To: Crecente
From: Bashcraft
Ahoy! Saturday was spent covering the Kinect launch in Japan. There weren't that many lines, but I do expect Microsoft to see a bump in Xbox 360 sales in Japan. How big?
It's hard to say. Japanese game retail blogs (here, here, here and here) are reporting sluggish interest. Even though in-store promotions were lacking and there was a lack in general fanfare, there could be a large number of pre-orders. People also might be picking up Kinect throughout the week... Japan has a big gaming population... Ultimately, none of that matters. The only thing that does is the sales chart, so we'll have to wait and see!
On Sunday, I went and had sushi with my family and my in-laws. I had raw beef (not pictured)! Mmmmm, raw beef.
What you missed last night
Make Your Own Cheapo Version Of The Nintendo 3DS
This Guy Can Finish Myst Faster Than I Can Make A Cup Of Tea
NSFW: Snake's Behaviour In The Field Has Been Erratic (At Best)
You Too Can Play Video Games In A Virtual Aircraft Sitting In Your Driveway
Green, Orange DSi Consoles To Go On Sale This Week