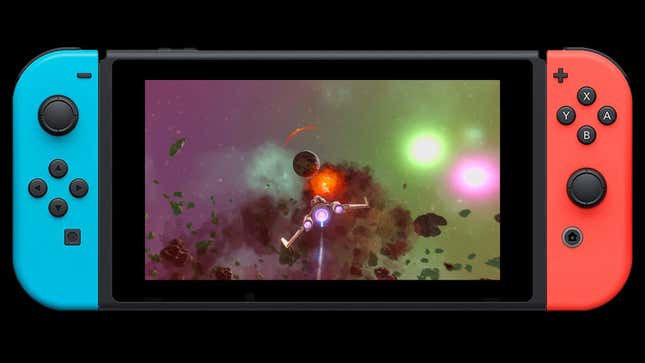 Hello Games is bringing massive spacefaring sim No Man's Sky and most of its updates from the past six years to Switch on October 7, the company announced this morning. A physical edition of the complete, remastered PlayStation 5 version is also planned for the same day.
"No Man's Sky on this tiny portable device feels both completely natural and also totally improbable at the same time," said Hello Games director Sean Murray. "This has been a real moonshot for our small team. No Man's Sky is built around procedural generation, which means the console generates everything you see. This makes it so much harder to bring our game to something like the Switch, but I think this team never seems happier than when they are trying to do near-impossible things."
Folks who pick up No Man's Sky on Switch will be able to experience all the content through the game's "Prisms" update from June 2021, if the rapid montage of logos in today's trailer is anything to go by. Hello Games has released three additional updates–"Frontiers," "Sentinel," and "Outlaws"—since then.
Here's a quick breakdown of the major updates and content No Man's Sky players on Switch can look forward to:
While the work Hello Games has put into No Man's Sky over the past several years is impressive, getting the game running on Switch is a new level of awe-inspiring. Stay tuned for more details.