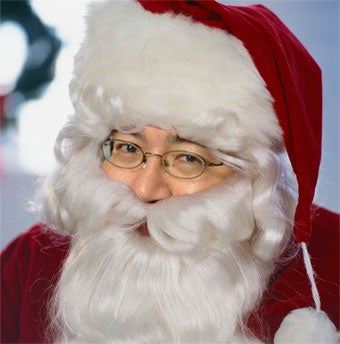 If you could ask the President of Nintendo a question, would you blow it on "why do sales in America spike during December?" No. Some Japanese guy did, though, and got this for his troubles.
The largest reason is Christmas. Americans buy a lot of presents during the Christmas holidays. Christmas gift guides, which I prefer not to call flyers but rather catalogs, usually circulate at the end of the year, and products advertised favorably there usually sell extremely well.

These "rotos," the ads with visuals that are distributed with papers, dictate the sales volume of products. American consumers go to retailers after deciding what to buy according to these rotos. As retailers also emphasize what rotos featured, these products also receive great visibility at retailers. This is my understanding of the retail business model in the U.S., according to what I have heard, seen and felt as one consumer, during my ten-times-a-year-visits for years.

In December, videogames receive larger visibility. And every retailer offers its own campaign like bundling Wii console and software for a discount as if to tell consumers that it's high time to buy. And consumers who have been thinking about buying a product and who find it in rotos or at retailers come to think that right now is the time to buy it. Most likely, this is why we see concentrated sales around this time.
Wow. Who says Nintendo aren't educational? That was one "hark the herald angels sing" away from a bonafide Wikipedia entry.
[Nintendo]