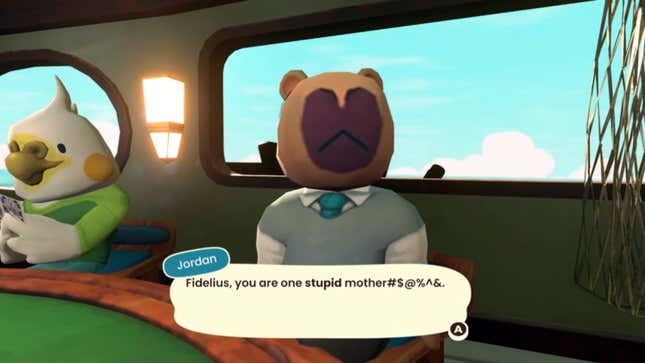 Last week, Nintendo mistakenly blocked and rejected the release of a cutesy animal game, after it took a jokey TikTok from the developer at face value and pulled its release in North America.
Trek To Yomi Is The Best Time You'll Never Want To Have Again
Sunshine Shuffle, the game denied its release day, is a narrative card game where a bunch of "working class" anthropomorphic animals with "a criminal past" gather 'round to play a game of Texas Hold 'Em whilst listening to ska music on a boat. To promote the game, Sunshine Shuffle studio head Xalavier Nelson Jr. uploaded a series of TikTok videos However, Nelson Jr. says he "goofed too close to the sun" by having those videos include a running joke saying the game definitely doesn't teach children how to gamble.
Luckily, Sunshine Shuffle didn't fumble the Nintendo bag because it's back up on the eShop. But the entire ordeal has been enlightening for Nelson Jr. and any other game devs looking to launch a game on Nintendo while being funny on TikTok.
How Sunshine Shuffle got blocked by Nintendo
"Sunshine Shuffle was supposed to come out on Nintendo Switch and PC tomorrow. The key word being 'supposed to,'" Nelson said in a TikTok video on May 23. "The store page is being blocked because the game we made about adorable animal criminals who robbed a bank for complicated reasons telling you their lives [sic] stories over a game of cards sure does seem like it is enticing children to—without their parent's permission—spend real-world money in order to gamble with adorable animal criminals.
This isn't the first time developer Strange Scaffold has had to reassure Nintendo that Sunshine Shuffle does not promote gambling through loot boxes and microtransactions. In fact, it's the second time: Five hours before Sunshine Shuffle's launch, it was banned in South Korea as well, according to Nelson Jr.

Kotaku reached out to Nelson Jr. and Nintendo for comment.
Sunshine Shuffle's removal from Nintendo eShop might be a blessing in disguise
Speaking with Digital Trends, Nelson Jr. revealed that the reason why he promoted Sunshine Shuffle on TikTok in the first place was that the game had a rocky development cycle that made it hard to use gameplay footage. For example, some of the game's furry ex-cons couldn't hold their playing cards correctly, according to Digital Trends.

"I had to find a way to talk about this game that we cared about and do that in a way that didn't rely on capturing perfect, seamless game footage," Nelson Jr. told Digital Trends. "So I was going to talk about the story and the themes and what it was achieving, and the tagline I landed on. 'Hey, it's a game that doesn't teach kids how to gamble.' The obvious concern I had was that people were going to get angry at us for playing a game where you have gambling occurring and it looks like it's a game for kids. So I thought, what if I take that potential negative energy and make that our entire tagline and make it suspicious and weird and something that people can attach to."

Fortunately, Nelson Jr.'s funnyman whoopsie does have a happy ending: Nintendo Uno-reversed its decision to remove and block Sunshine Shuffle's release and will release on Nintendo Switch today, May 31. Nelson Jr. broke the news in a TikTok video on May 27 saying the game's shuffled release date on the Nintendo handheld was because of his "hubris."

While Nelson Jr. has been playfully self-deprecating about Sunshine Shuffle's disastrous release, this whole comedy of errors may have helped get more eyes on Sunshine Shuffle in the long run. Think about it: Not many devs can say their social media promotional campaigns led to Nintendo blocking their game only to lift the ban hammer a week after its initial release because of the "your honor, it was a joke" defense. That's the kind of promotional campaign social media managers dream of achieving.