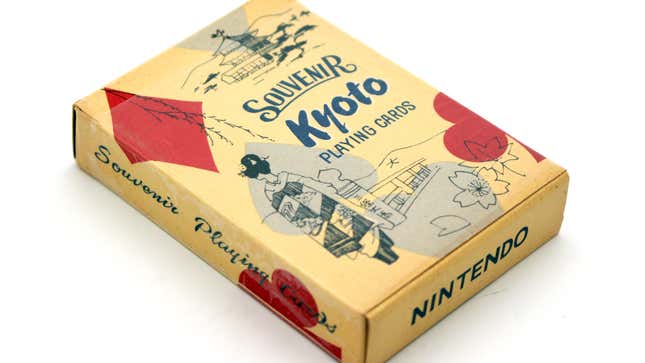 In August 2022 we told the very sad story of a serious Nintendo collector who, having thought he'd got hold of some very special old playing cards, had in fact got hold of two hunks of worthless cardboard.

What You Should Know About Mario Strikers' Big Free Update
Before Mario's Erik Voskuil thought he had hit the jackpot when, after years of searching, he came across two decks of souvenir playing cards, some of the best examples of the kind of things Nintendo used to make before switching to video games.
"I cannot overstate how exicited I was to find these seventy year old Nintendo cards, featuring Kyoto in the 1950s", Voskuil wrote excitedly on August 7. "In all my years of collecting, these are the only copies I have come across." To put that into perspective, writing on his blog, Voskuil adds that this is the first time he's ever seen the cards—printed entirely in English—up for sale, after spending "more than twenty years of searching for vintage Nintendo items."
Upon opening them up, though, disaster:
"However, when I carefully removed part of the wrapper, I quickly discovered that all cards had been completely fused together", he writes. "They had remained pressed together for such a long time, likely under hot and humid conditions, that the ink on all cards had made them stick together completely. The stack of individual cards had turned into one solid brick. The photo prints on the cards, that contain relatively large amounts of ink, may have contributed to this as well."

Note that these cards are old, and so lacked any of the plastic or laminates we'd normally associate with playing cards produced in more recent decades. These ones were made entirely of paper, so when he says they have fused together, he means it. This is no longer a deck of cards, but an expensive block of paper.
Or so we thought! Because Voskuil's story appeared on websites like this one, it ended up on both news feeds and Google search results, which meant it began reaching people outside the usual video game collector circles. "Within months after posting the story online, I was offered two decks, by two different people, both from the United States" Voskuil writes in an update on his site. "They approached me separately after reading about these cards on this blog.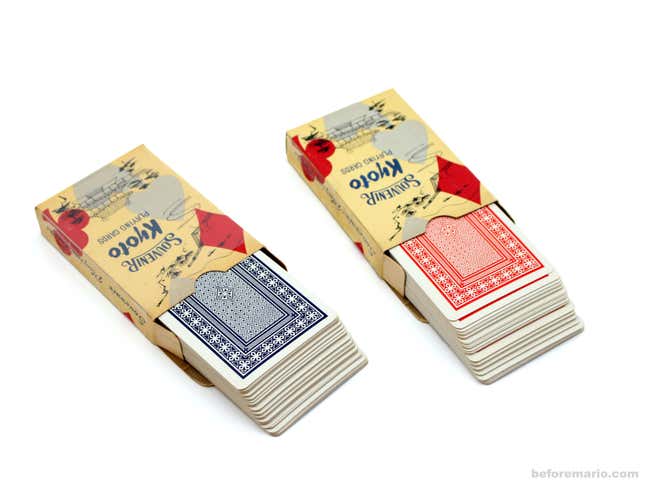 The first deck came from a guy running a Facebook group called Playing Card Exchange, who had "obtained a Nintendo Souvenir Kyoto Playing Cards deck some time ago through an estate sale". The second came from a lady living in Portland. "A copy of the Souvenir Kyoto Playing Cards had been discovered in an abandoned house in her area", Voskuil says. "Not knowing anything about the cards, she searched online, found my post and contacted me."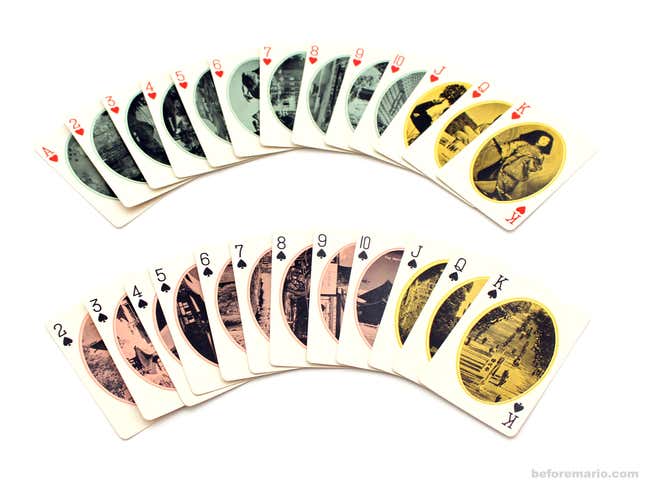 After making deals to purchase both decks, Voskuil now has them in his possession and couldn't be happier. They are in pristine condition, one of the decks even including a sample card still attached to the outside, and he's posted a ton of very high quality images on his site so we can all enjoy the art—and historic importance—of the cards.