Another day of Nintendo honcho blowing the gasket off of things. This time, it's Nintendo's online service, the Nintendo Network. It's supposed to be free, but that doesn't mean it will be free forever. Forever is a long time.
At a recent investors meeting, Iwata said, "We cannot promise that Nintendo will always provide you with online services free of charge no matter how deep the experiences are that it may provide."
Continuing, he added, "But at least we are not thinking of asking our consumers to pay money to just casually get access to our ordinary online services."
It sounds like Nintendo is tossing around the idea of maybe having a casual service and a premium one.
G/O Media may get a commission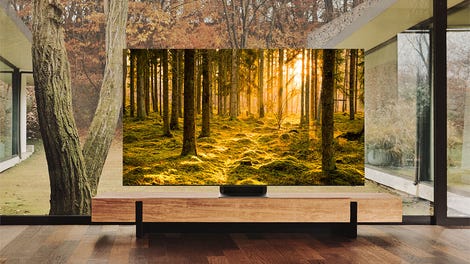 Up to 40% off
Samsung Smart TVs
According to Iwata, Nintendo has a varied of users—from casual to hardcore. He believes that the casual players might only play online during, say, summer vacation or during Japan's end of year holidays.
"We therefore believe that services which ask our consumers to obtain paid memberships are not always the best."
If Nintendo did roll out two services (one free and one premium), gamers would probably be willing to pony up the extra fees for a "deep" online service—well, of course, if Nintendo made a premium service that gamers felt lived up to the add-on fees. And that's okay.
You do get what you pay for, there are no free lunches, and all that jazz.
The 72nd Annual General Meeting of Shareholders [Nintendo via Eurogamer]