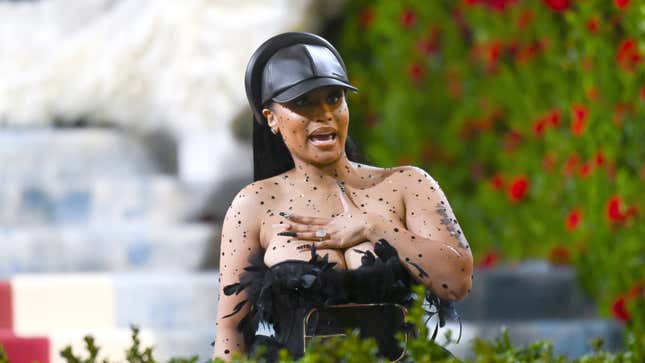 This past weekend, police showed up to musician and newly minted Call of Duty operator Nicki Minaj's Los Angeles home in what's being called a swatting prank that's commonly used against gamers and livestreamers, TMZ reports.
Rooster Teeth's RWBY x Justice League Collab Puts Batman's New Anime Abilities To Good Use
According to TMZ, the San Fernando Valley Police Department (SFVPD) county sheriff deputies arrived at Minaj's $19.5 million farmhouse with lights and sirens blaring on July 29. Law enforcement explained that a person dialed 911 claiming someone was shot at her house, leading police to rush to the scene. When SFVPD arrived and saw no shooting victims, they deemed it a prank call. Minaj wasn't happy to see deputies again, especially since this is the third time this happened to her this year.
In June, TMZ reported that someone called the cops on Minaj and claimed her child was being abused. Twenty-four hours later, police received another 911 call that alleged the "Barbie World" rapper's house was on fire. Police deemed both instances were swatting pranks. At the time, Minaj said that she hired lawyers to make sure those responsible were exposed and held accountable.
Swatting is a dangerous form of prank that started in the early 2000s but rose to prominence in the mid-2010s with the internet boom. It involves someone calling the cops, typically on a livestreamer, with the goal of getting a large police response to show up at a particular person's address. A variety of livestreamers have been subjected to this form of online harassment, including trans political commentator Keffals, Just Chatting broadcaster Kai Cenat, and The Streamer Awards creator QTCinderella. Not only does this dangerous prank waste police resources, in some cases it's even resulted in an unfortunate loss of life. It's also a criminal offense, with folks who engage in the "prank" potentially facing multiple years in prison, large fines, and any other applicable penalties.
Kotaku reached out to Minaj's team and the SFVPD for comment.
Minaj, who has won over 400 awards including MTV's Best Hip Hop trophy in 2022, will be a playable operator in the upcoming season five content drop of Call of Duty: Modern Warfare II and Warzone. Her forthcoming album Pink Friday 2 comes out on November 17. She says it will restore hope in mankind.