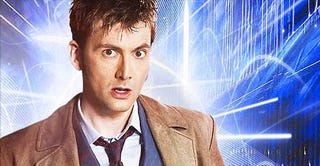 The last and first day of the year for me has always meant spending way too much time in front of the TV. Be it playing video games until I pass out or watching televised marathons, I consider it a guilt-free over-indulgence.
This year will be no different. I've got a sizable backlog of games to play including Demon's Souls, Total War: Empire and early builds of Dark Void and Dante's Inferno. But there's also plenty of television to watch.
I'll be definitely catching as much of New Year Day's Doctor Who marathon as possible and I've spent a chunk of today flipping between The Twilight Zone and the Three Stooges. What about you? Games or TV?
If TV is your televised poison of choice here's a rundown of the marathons I spotted while channel surfing:
New Year's Eve
Discovery Channel: Ghost Lab
USA: Burn Notice
History Channel: Strange Rituals
TNT: Las Vegas
A&E: The First 48
Syfy: The Twilight Zone
WGN: In the Heat of the Night
AMC: The Three Stoogies
TCM: The Thin Man
The Travel Channel: Bizarre Food
New Year's Day
BBC America: Doctor Who
Discovery Channel: MythBusters
Cartoon Network: Loony Tunes
The History Channel: Ice Road Truckers
A&E: Criminal Minds
Syfy: The Twilight Zone
WGN: Barney Miller