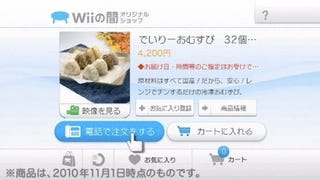 The November, Nintendo is launching a shopping service for the Nintendo Wii. It will put countless stores and products at the fingertips of Wii owners. Very contemporary. One of its purchasing options? Less so.
Besides purchasing online, ordering can be done via telephone. So if you are in the market for, say, a US$43 dollar set of fruit jam and are worried about entering your credit card online, then pick up the phone and call Nintendo's shopping call center.
Don't forget to give your order number! Oh, and ordering is possible from noon to 11pm during weekdays and from 9am to 11pm during holidays and weekends.
This seems like an odd option and old fashioned, but people will probably use it. Forty dollar jam on the other hand...